News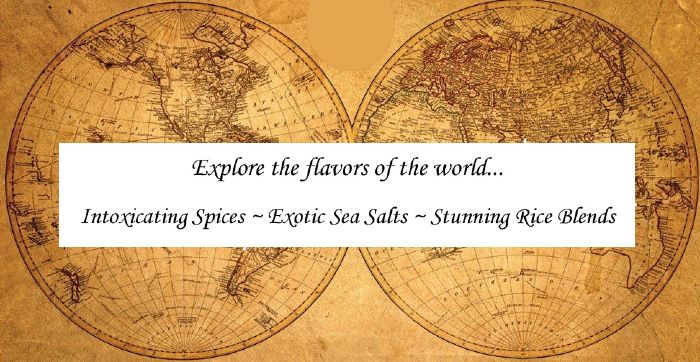 Travel around the world with our selection of products used
in diverse dishes from the Orient, Libya, Spain and Italy.
(Want to see more? Click on the photo to view the product description)
Thai Coconut Red Rice is a coconut and spice infused rice with a flavor profile that is native to Thai cuisine.
Speckled Sushi Rice is a short grain white Sushi Rice with sprinkles of Black Quinoa; naturally mild, sweet-flavored rice with sticky, malleable cooked texture.
Gochujang Sea Salt, (go schu  jang) helps chef add authentic Korean Gochujang flavor to finished foods just before serving. Made with gochugaru (go chew garu) chile flakes.
Organic Black Rice Pad Thai Noodles are medium-width noodles made from organic black rice. The noodles have a chewy, toothsome texture and easily absorb the flavors of whatever they are cooked with.
Gochujang Powder (go schu jang) captures the heat and spice of traditional Korean gochujang paste in a convenient, shelf-stable powder. It balances the heat of gochugaru (go chew garu) chile flakes with the savory notes of miso powder, salty flavor of soy sauce powder and the sweet, tangy taste of fermented black garlic.
Pilpelchuma Seasoning (pill pell chew ma) is a spicy mix of crushed chiles and garlic, blended to recreate the intense flavors of the popular Libyan condiment. Pilpelchuma, translates to "pepper garlic" in Hebrew, is common throughout Libya and Israel and is often compared to harissa. 
Spinach Florentine Risotto Rice blend combines premium short grain Arborio rice, fragrant spinach and subtle spices for a classic Italian flavor in risotto; this is an exceptional rice blend with the flavor of Florence.
Autumn Squash Polenta is a mix that combines polenta with the sweet flavor of autumn harvest squash and comes in an easy-to-make, convenient format.
Porcini-Champignon Sea Salt is made by blending natural sea salt with real porcini, champignon and bolete mushrooms along with garlic and onion powders.
Mocha-Vanilla Sea Salt blends natural sea salt with the rich, bold flavors of coffee and cocoa, with subtle hints of warm, fragrant vanilla. Perfect for use as a finishing salt for ice cream, caramels and other sweet treats.
Saffron-Pink Peppercorn Salt is an aromatic blend of natural sea salt seasoned with a combination of ground pink peppercorns and genuine saffron.
Mediterranean Kale Polenta mixes polenta with hearty kale & Calabrian chiles, red bell pepper, & roasted garlic. 
Peruvian Chile-Citrus Sea Salt is a smart, simple combination of Aji Amarillo chiles and citrus flavors that exemplifies Peruvian cuisine. Made with natural sea salt, the Aji Amarillo powder gives this blend an interesting golden yellow hue.
Southwestern Green Chile Polenta is a mix that combines polenta with the spicy and slightly sharp flavor of Southwestern chile peppers, including Poblanos and Jalapenos. 
Roasted Sweet Pepper Polenta mixes polenta with the sweet &smoky flavor of roasted red bell peppers.
New Gluten Free Products!
Sorghum is a versatile, high-protein, gluten-free grain, similar to corn, and with a variety of uses. Can be used popped on top of salads as well as a side or in soups/salads/pilaf.
Gluten-Free Chocolate Cake Mix makes decadent gluten-free desserts both quick and easy. Essential ingredients like baking powder, sugar and tapioca starch are blended in for added convenience and quicker preparation.
 To Order please contact us at
 800.262.6368