AJI AMARILLO, DESTEMMED - Kosher/Gluten Free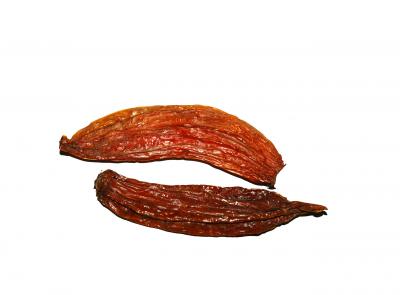 ---
AJI AMARILLO, DESTEMMED - Kosher/Gluten Free
AJI-1
Description:

Aji Amarillo is thought to have originated from Bolivia or Peru. It is one of the most common chiles in Peru and is also known as Aji Escabeche, Yellow Chile, or Peruvian Chile. The Aji Amarillo is about 4 to 5 inches long and start off green, ripen to a shiny yellow and mature to a deep orange color with a medium hot flavor and fruity, berry flavor. Chiles offer a variety of health benefits, Capsaicin, the predominant capsaicinoid, has been found to work as an anticoagulant and small amounts of capsaicin can produce numbing of the skin. Chiles are a source of antioxidants and are high in Vitamin C. Our Aji Amarillo chiles are destemmed.
Ingredient Statement:
Aji Amarillo Chiles.
Delicous in avacado tostadas, Aji Amarillo can also be added to pineapple salsa or mango chutney. Add Aji Amarillo to heat up your favorite chili or burrito recipe. Warm and fruity it lends itself perfectly to savory sauces and marinades for chicken, beef and pork.
Recommended Preparation Instructions:
Soak in hot water for 10 minutes to soften or add directly to a braised dish.
Product Description
Aji Amarillo is also known as Aji escabeche. The Aji Amarillo is the most common chile in Peru. In the USA it is sometimes referred to as the yellow chile or Peruvian chile. The pods are 4-5 inches long and deep orange in color when mature. The thin fleshed pods have a clearly pungent heat. The pod is grown in all of the regions of Peru, for instance, the coast, the Andes and the Amazon jungle.
Physical
Color: Orange brown with shades of yellow.
Flavor: Hot, fruity flavor with a citrus aroma.
Size: Approximately 4-6 inches long, narrow shaped peppers.
Chemical
Moisture: <20%
Sulfites: Negative
Heat Level: Approx. 5,000-25,000 Scoville Heat Units
Ingredient Statement:
Aji Amarillo Chiles.
Allergen Statement
None.
Packaging & Storage
Shelf Life: Min 12 months (under optimum storage conditions).
Packaging: Poly bag in box.
Storage Conditions: Store in a dry, cool place.
About Nutritional Information
Chieftain Wild Rice Company gathers nutritional information from highly regarded sources. Nutritional analysis can vary due to growing conditions, frequency of testing, and other factors.
Nutrition Facts

Serving Size 100 g (uncooked)

Amount Per Serving

Calories 324

Calories from Fat 54

 

% Daily Value *

Total Fat 6g

9%

Saturated Fat 1g

5%

Trans Fat 0g

 

Cholesterol 0g

0%

Sodium 91mg

4%

Total Carbohydrate 70g

23%

Dietary Fiber 29g

116%

Sugars 41g

 

Protein 11g

 

Vitamin A

530%

Vitamin C

52%

Calcium

5%

Iron

33%

* The Percent Daily Values are based on a 2,000 calorie diet.