AJI AMARILLO POWDER - Kosher/Gluten Free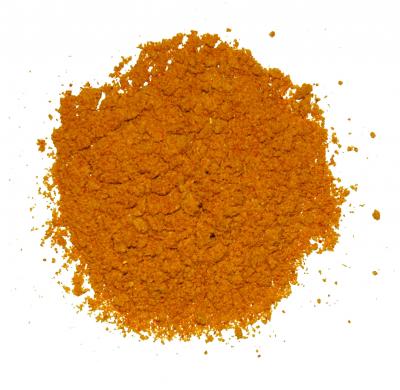 ---
AJI AMARILLO POWDER - Kosher/Gluten Free
AJIAMARILLO-18
Description:

TEMPORARILY UNAVAILABLE - Tentative Arrival 6-27-14     Aji Amarillo powder is made from ground Aji Amarillo chile. Aji Amarillo is thought to have originated from Bolivia or Peru. It is one of the most common chiles in Peru and is also known as Aji Escabeche, Yellow Chile, or Peruvian Chile. The Aji Amarillo is about 4 to 5 inches long, start out green and ripen to a shiny yellow and mature to a deep orange color with a medium hot flavor and fruity, berry flavor. Our chile powder is simple to use as a substitute for paprika or cayenne powder or use in chile, sauces, chutney, dips, marinades, gravies, stir-fry and more! Chiles offer health benefits as well, Capsaicin, the predominant capsaicinoid, has been found to work as an anticoagulant and small amounts of capsaicin can produce numbing of the skin. Chiles are a source of antioxidants and are high in Vitamin C.
Ingredient Statement:
Aji Amarillo.
TEMPORARILY UNAVAILABLE - Tentative Arrival 6-27-14
Substitute Aji Amarillo powder for cayenne or paprika in your favorite recipes. Use anywhere you want medium heat and fruity flavor! Simple to use, add to soups, salads, sauces, marinades, vinaigrettes, stuffing, chutney, chocolate, soups, stews, and chili.
Recommended Preparation Instructions:
Chile Powders require no preparation. Add directly to recipes when a boost of flavor and heat are desired.
Product Description
Aji Amarillo powder is made from Aji Amarillo chiles. Aji Amarillo is also known as Aji escabeche. The Aji Amarillo is the most common chile in Peru. In the USA, it is sometimes referred to as the yellow chile or Peruvian chile. The pods are 4-5 inches long and deep orange in color when mature. The thin fleshed pods have a clearly pungent heat. The pod is grown in all of the regions of Peru, for instance, the coast, the Andes and the Amazon jungle.
Physical
Color: Orange to mustard yellow.
Flavor: Fruity with berry tones.
Size: Min 80% through a U.S. #30 screen.
Chemical
Moisture: N/A
Sulfites: N/A
Heat Level: Approx. 2500-5,000 Scoville Heat Units
Ingredient Statement:
Aji Panca Chile Powder.
Allergen Statement
None.
Packaging & Storage
Shelf Life: Min 12 months (under optimum storage conditions).
Packaging: Plastic jar.
Storage Conditions: Store in a dry, cool place.
About Nutritional Information
Chieftain Wild Rice Company gathers nutritional information from highly regarded sources. Nutritional analysis can vary due to growing conditions, frequency of testing, and other factors. 
Nutrition Facts
Serving Size 100g (uncooked)
Amount Per Serving
Calories 0
Calories from Fat 0
 
% Daily Value *
Total Fat 0g
0%
Saturated Fat 0g
0%
Trans Fat 0g
 
Cholesterol 0g
0%
Sodium 0mg
0%
Total Carbohydrate 0g
0%
Dietary Fiber 0g
0%
Sugars 0g
 
Protein 0g
 
Vitamin A
3%
Vitamin C
0%
Calcium
0%
Iron
0%
* The Percent Daily Values are based on a 2,000 calorie diet.