AJI PANCA POWDER - Kosher/Gluten Free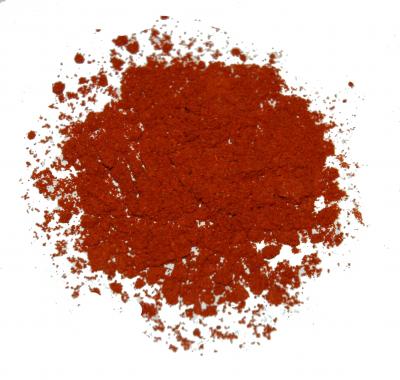 ---
AJI PANCA POWDER - Kosher/Gluten Free
AJIPANCAPOW-20
Description:

This Aji Panca chile has medium thick flesh and a smoky berry flavor giving it a very aromatic taste. Aji (ah hee) is simply the Peruvian or South American term for chile pepper. Aji Panca is the second most common Aji variety in Peru and is grown mainly near the coast. Aji Panca measures approximately 500 Scoville Heat Units, giving it a mild but persistent heat. The pods are about 3 to 5 inches long and reddish-brown in color. The berry-like flavor goes well in stews and sauces and with fish and rice dishes.
Ingredient Statement:
Aji Panca Chile Powder.
Warm, fragrant and slightly sweet, Aji Panca chile powder will give a little kick to the flavor of chili, salsa, dip, stir-fry, rice dishes and chutneys. Try Aji Panca powder in muffins, with smoky ribs, marinades and grilled chicken. You can substitute Aji Panca powder for Poblano powder.
Recommended Preparation Instructions:
Chile Powders require no preparation. Add directly to recipes when a boost of flavor and heat are desired.
Product Description
This reddish-brown chile is fruity and mild. It measures approximately 500 Scoville Heat Units. It makes a wonderful addition to any authentic Mexican meal.
Physical
Color: Reddish to dark brown.
Flavor: Pungent chile flavor, sweet, woody, earthy, heat.
Size: 90% through a U.S. #30 mesh screen.
Chemical
Moisture: <20%
Sulfites: N/A
Heat Level: Approx. 500-1,500 Scoville Heat Units
Ingredient Statement:
Aji Panca Chile Powder.
Allergen Statement
None.
Packaging & Storage
Shelf Life: Min 12 months (under optimum storage conditions).
Packaging: Plastic jar.
Storage Conditions: Store in a dry, cool place.
About Nutritional Information
Chieftain Wild Rice Company gathers nutritional information from highly regarded sources. Nutritional analysis can vary due to growing conditions, frequency of testing, and other factors.
Nutrition Facts
Serving Size 100g (uncooked
Amount Per Serving
Calories 40
Calories from Fat 0
 
% Daily Value *
Total Fat 0g
0%
Saturated Fat 0g
0%
Trans Fat 0g
 
Cholesterol 0g
0%
Sodium 7mg
0%
Total Carbohydrate 10g
3%
Dietary Fiber 2g
8%
Sugars 1g
 
Protein 2g
 
Vitamin A
2%
Vitamin C
53%
Calcium
2%
Iron
11%
* The Percent Daily Values are based on a 2,000 calorie diet.