BASMATI RICE, KALA JEERA / BABY - Kosher/Gluten Free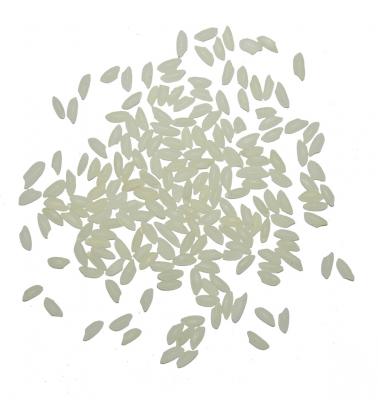 ---
BASMATI RICE, KALA JEERA / BABY - Kosher/Gluten Free
BABY-10
Description:

Kala Jeera Rice, "the Prince of Rice", is sometimes called baby basmati because of its fragrant aroma. Being such an aromatic rice, it is best just steamed by itself with a pinch of salt and butter or oil. Projecting a slightly sticky texture Kala Jeera Rice must be rinsed well with cold running water. A short cook time of 10 to 15 minutes and using only a tiny bit more water than rice in a small-bottomed pan will help keep the kernels from over inflating. The ratio of 1-1/4 water to 1 rice works well. The short cook time makes it a time saving ingredient for chefs!
Ingredient Statement:
White Rice.
This light fragrant rice can be used in dessert dishes or steamed with herbs or vegetables. Use in recipes calling for baby basmati. Traditionally served using aromatic spices like cinnamon sticks, cloves and cardamom pods. The best tiny aromatic rice in the world.
Recommended Preparation Instructions:
Place 1 cup of rice and 1-1/2 cups of water in a pot with a lid. Bring to a boil, cover, reduce heat and simmer for 20 minutes. Remove from heat and let stand 5 min. Season as desired and fluff with fork before serving.
One cup dry yields 2-1/2 to 3 cups cooked.
Product Description
Basmati Rice is a nutty flavored, aromatic Rice which is grown in India and Pakistan around the Himalayan Foothills, as well as in Iran. Basmati Rice is well known for its fragrance and delightful flavor. The grains of this Rice cook up separate and fluffy. Basmati is similar to Jasmine Rice. Both have a sweet, nutty flavor, however, Basmati has a much more concentrated flavor. Baby Basmati Rice has a more delicate flavor and texture than regular Basmati.
Physical
Color: Bright white.
Flavor: Typical of basmati rice, nutty.
Size: Approximately 3/16 inch in length.
Chemical
Moisture: N/A
Sulfites: N/A
Heat Level: N/A
Ingredient Statement:
White Rice.
Allergen Statement
None.
Packaging & Storage
Shelf Life: Min. 12 months (under optimum storage conditions).
Packaging: Poly bag in box.
Storage Conditions: Store in a dry, cool place.
About Nutritional Information
Chieftain Wild Rice Company gathers nutritional information from highly regarded sources. Nutritional analysis can vary due to growing conditions, frequency of testing, and other factors.
Nutrition Facts

Serving Size 100g (uncooked)

Amount Per Serving

Calories 358

Calories from Fat 9

 

% Daily Value *

Total Fat 1g

2%

Saturated Fat 0g

0%

Trans Fat 0g

 

Cholesterol 0g

0%

Sodium1 mg

0%

Total Carbohydrate 79g

26%

Dietary Fiber 3g

12%

Sugars0 g

 

Protein 7g
 

Vitamin A

0%

Vitamin C

0%

Calcium

0%

Iron

22%

* The Percent Daily Values are based on a 2,000 calorie diet.