BASMATI RICE, AGED 2 YEARS - Gluten Free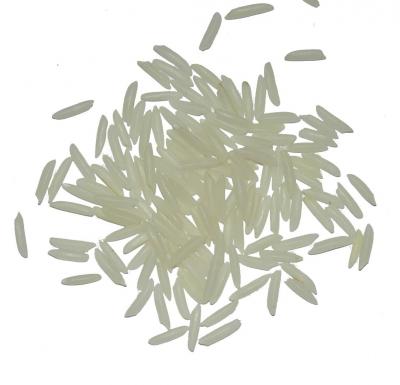 ---
BASMATI RICE, AGED 2 YEARS - Gluten Free
BASMAGED-10
Description:

Basmati rice means the "queen of fragrance or the perfumed one." Grown in the foothills of Himalaya, this true basmati has been aged for a minimum of two years. Basmati is aged to decrease its moisture content. This aging method intensifies the aromatic traits of this rice dramatically, giving it a fragrant, nutlike flavor and aroma. Basmati Rice is easily the finest aromatic rice in the world!
Ingredient Statement:
Rice.
Basmati Rice is superb when steamed with aromatic spices and has long been known as the fragrant breakfast rice. Excellent in Thai style pork stew, Indian vegetable rice, popcorn chicken, curries and dessert puddings. The fragrant taste and firm texture of Basmati Rice goes well with spicy curries or stir-fry. Substitute in any recipe calling for long grain White Rice.
Recommended Preparation Instructions:
Place 1 cup of rice and 1.5 cups of water in a pot with a lid. Bring to a boil, cover, reduce heat and simmer for 20 minutes. Remove from heat and let stand 5 min. Season as desired and fluff with fork before serving.
One cup dry yields 2-1/2 to 3 cups cooked.
Product Description
This true basmati from the foothills of the Himalaya's is aged a minimum of two years. This aging process intensifies the aromatic qualities of this rice dramatically. As the rice ages, moisture/water evaporates away, increasing the oil's role in the flavor profile. This rice is wonderful when steamed with aromatic spices like clove, green cardamom and fennel. This premium rice is the finest aromatic rice in the world.
Physical
Color: White.
Flavor: Typical of basmati rice, nutty.
Size: Approximately ¼ inch in length, rice shaped.
Chemical
Moisture: N/A
Sulfites: N/A
Heat Level: N/A
Ingredient Statement:
Rice.
Allergen Statement
None.
Packaging & Storage
Shelf Life: Min. 12 months (under optimum storage conditions).
Packaging: Poly bag in box.
Storage Conditions: Store in a dry, cool place.
About Nutritional Information
Chieftain Wild Rice Company gathers nutritional information from highly regarded sources. Nutritional analysis can vary due to growing conditions, frequency of testing, and other factors.
Nutrition Facts

Serving Size 100g (uncooked)

Amount Per Serving

Calories 365

Calories from Fat 9

 

% Daily Value *

Total Fat 1g

2%

Saturated Fat 0g

0%

Trans Fat g

 

Cholesterol 0g

0%

Sodium 5mg

0%

Total Carbohydrate80 g

27%

Dietary Fiber 1g

4%

Sugars0 g

 

Protein 7g
 

Vitamin A

0%

Vitamin C

0%

Calcium

3%

Iron

6%

* The Percent Daily Values are based on a 2,000 calorie diet.