HIMALAYAN RED RICE (BHUTANESE), SHORT GRAIN - Gluten Free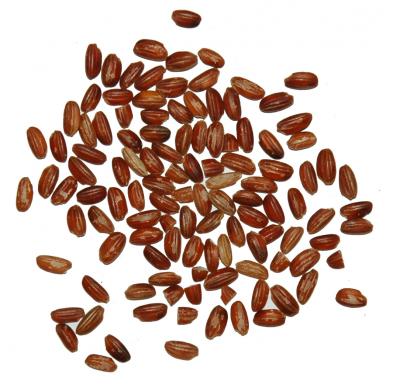 ---
HIMALAYAN RED RICE (BHUTANESE), SHORT GRAIN - Gluten Free
BHUT-10
Description:

Himalayan Red Rice (Bhutanese) is from the Kingdom of Bhutan where it literally colors the landscape. The Kingdom of Bhutan is located at the eastern end of the Himalayan Mountains. Revered by all who have tried it, Himalayan Red Rice (Bhutanese) carries a slightly nutty and aromatic flavor combination. When cooked this red rice is pale, pink with a soft texture and slightly sticky consistency. Himalayan Red Rice (Bhutanese) has the same high nutritional qualities as brown rice due to its thin red bran remaining intact after milling. Unlike brown rice, Himalayan Red Rice (Bhutanese) can be cooked as quickly as white rice in half the time as brown. Considered a great source of fiber and also known for its high content of antioxidant phenolic compounds. Use to add color variation and unique flavor in any recipe calling for brown rice or white rice.
Ingredient Statement:
Rice.
Try Himalayan Red Rice (Bhutanese) in a quinoa, lentil and vegetable salad, use for rice pilafs, puddings, stir-fry, stuffing and use as a replacement for brown rice is select recipes.
Recommended Preparation Instructions:
Add 1 cup rice and 2-1/4 cups water to pot. Bring to a boil over high heat. Cover, turn heat to low, and simmer for 40 minutes. Fluff with fork before serving.
One cup dry yields 3 cups cooked.
Product Description
This rice from the Kingdom of Bhutan is revered by all who have tried it. It's flavor is slightly nutty and aromatic, a unique combination. As this rice is a brown rice the normal cooking time would be one hour, however the rice from Bhutan cooks in about 25 minutes. This is a natural attribute to the rice and not do to pre-cooking.
Physical
Color: Brick red with some orange.
Flavor: Typical of rice.
Size: Approximately 3/16 inch in length, rice shaped grain.
Chemical
Moisture: N/A
Sulfites: N/A
Heat Level: N/A
Ingredient Statement:
Rice.
Allergen Statement
None.
Packaging & Storage
Shelf Life: Min. 12 months (under optimum storage conditions).
Packaging: Poly bag in box.
Storage Conditions: Store in a dry, cool place.
About Nutritional Information
Chieftain Wild Rice Company gathers nutritional information from highly regarded sources. Nutritional analysis can vary due to growing conditions, frequency of testing, and other factors.
Nutrition Facts

Serving Size 100g (uncooked)

Amount Per Serving

Calories 362

Calories from Fat 27

 

% Daily Value *

Total Fat 3g

5%

Saturated Fat 1g

5%

Trans Fat 0g

 

Cholesterol 0g

0%

Sodium 4mg

0%

Total Carbohydrate 0g

0%

Dietary Fiber 3g

12%

Sugars 0g

 

Protein 8g
 

Vitamin A

0%

Vitamin C

0%

Calcium

3%

Iron

11%

* The Percent Daily Values are based on a 2,000 calorie diet.