BLACK JAPONICA RICE - Kosher/Gluten Free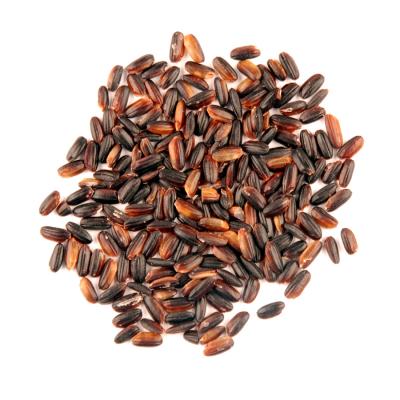 ---
BLACK JAPONICA RICE - Kosher/Gluten Free
JAPONICA-10
Description:

Black Japonica combines Asian black short-grain rice and medium-grain mahogany rice for an end result that is both spicy and earthy. When cooked it portrays a nutty somewhat mushroom flavor highlighted with a sweet spiciness that is extremely moist. Rich in color, this dark rice makes a striking plate presentation.
Ingredient Statement:
Rice.
Recommended Preparation Instructions:
Bring one cup rice and two cups unsalted water to a boil. Cover, reduce heat to low, and simmer for 20-25 minutes until the rice is tender and the water is absorbed. Fluff with a fork before serving.
One cup dry yields 3¼ cups cooked.
Product Description
Medium Grain Black (Japonica) rice from California origin that has been hulled, graded, and cleaned. Japonica rice is a combination of black short grain rice and medium grain mahogany rice that are grown together. When cooked it provides a nutty mushroom like flavor with a subtle, sweet spiciness.
Physical
Color: Mix of light tan to dark burgundy black variegation.
Flavor: Clean, slightly nutty.
Size: Approximately 3/16 to ¼ inch in length.
Chemical
Moisture: <15%
Sulfites: N/A
Heat Level: N/A
Ingredient Statement:
Rice.
Allergen Statement
None.
Packaging & Storage
Shelf Life: Min. 12 months (under optimum storage conditions).
Packaging: Poly bag in box.
Storage Conditions: Store in a dry, cool place.
About Nutritional Information
Chieftain Wild Rice Company gathers nutritional information from highly regarded sources. Nutritional analysis can vary due to growing conditions, frequency of testing, and other factors.
Nutrition Facts

Serving Size 100g (uncooked)

Amount Per Serving

Calories 362

Calories from Fat 24.1

 

% Daily Value *

Total Fat 3g

4%

Saturated Fat 1g

3%

Trans Fat 0g

 

Cholesterol 0g

0%

Sodium 4mg

0%

Total Carbohydrate 76g

25%

Dietary Fiber 3.4g

14%

Sugars0 g

 

Protein7.5 g
 

Vitamin A

0%

Vitamin C

0%

Calcium

3%

Iron

10%

* The Percent Daily Values are based on a 2,000 calorie diet.