TRUFFLE POWDER, BLACK - Kosher/Gluten Free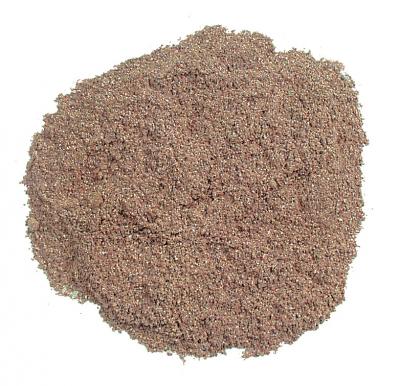 ---
TRUFFLE POWDER, BLACK - Kosher/Gluten Free
TRUFPOWB-1
Description:

These highly prized tubers are considered the "Black Diamonds" of the kitchen and are the most famous Truffles in the world! What makes Black Truffles so popular? The flavor of the Black Truffle is pervasive in a subtle way and some describe its smell as earthy, musky and pungent, even addictive! Hard to come by, Black Truffles are fungi (tuber) that grow underground in soil ranging from 2 inches up to 10 to 15 inches deep. Truffles form symbiotic relationships with some varieties of deciduous trees, including oak, beech, hazel and poplar, but cannot be found on maples or cedars. Sought out by specially trained dogs (hogs were used most often in the past) with their keen sense of smell, Truffles look like what their Latin term implies, a tuber or "lump". Thought to be an aphrodisiac by some they are extremely popular in International cuisine. Black Truffle Powder can be used to flavor pate, sauces, egg dishes, butters and oils.  Black Truffle Powder is from the United States.
Ingredient Statement:
Black Truffle Mushrooms.
The flavor of this fragrant tuber should be allowed center stage in most dishes. Small amounts of Black Truffle Powder should be used due to its potency. Delicious in goose liver pate, omelettes, soups, sauces, oils, puff pastry and butter. Black Truffle Powder is particularly tasty in sauces, especially those that uses White Wine or Champagne and are served with pasta.
Recommended Preparation Instructions:
Truffle powder is ready to use as an ingredient with no preparation necessary.
Product Description
Black Truffles are the most famous Truffles in the world. The flavor of a Truffle is pervasive in a subtle way; this enigma of taste is one of the reasons that Truffles have such a loyal following amongst food lovers. Much folklore has arisen around Truffles the tales of pigs and dogs which can find them, or flies that hover above Truffles. In any event, Truffles have created a following and a folklore because they are a delicious, interesting fungi.
Physical
Color: Dark brown to grayish black.
Flavor: Earthy with garlicky undertones.
Size: 95% thru U.S. #30 sieve.
Chemical
Moisture: N/A
Sulfites:
Heat Level: N/A
Ingredient Statement:
Black Truffle Mushrooms.
Allergen Statement
None.
Packaging & Storage
Shelf Life: Min 12 months (under optimum storage conditions).
Packaging: Plastic jar.
Storage Conditions: Store in a dry, cool place.
About Nutritional Information
Chieftain Wild Rice Company gathers nutritional information from highly regarded sources. Nutritional analysis can vary due to growing conditions, frequency of testing, and other factors.
Nutrition Facts

Serving Size 100g (uncooked)

Amount Per Serving

Calories 296

Calories from Fat 9

 

% Daily Value *

Total Fat 1g

2%

Saturated Fat 0g

0%

Trans Fat 0g

 
Cholesterol 0g

0%

Sodium 13mg

1%

Total Carbohydrate 75g

25%

Dietary Fiber 12g

48%

Sugars 2g

 
Protein 10g
 

Vitamin A

0%

Vitamin C

7%

Calcium

1%

Iron

11%

* The Percent Daily Values are based on a 2,000 calorie diet.