SEA SALT, BLACK TRUFFLE - Gluten Free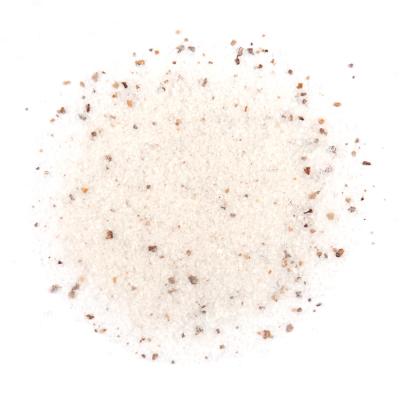 ---
SEA SALT, BLACK TRUFFLE - Gluten Free
SALTSEABLTR-32
Description:

Black Truffle Sea Salt is a scintillating combination of Mediterranean sea salt combined with Black Summer Truffles. Mouth watering, this blend emits the unique flavor of the highly valued Truffle. Discerning palates will appreciate this blend when used in fragrant cream sauces and marinades.
Ingredient Statement:
Sea Salt, Black Summer Truffle (Tuber aestivum/unicinatum).
Black Truffle Sea Salt has a flavor that is so unique you'll want to try it everywhere! Sprinkle on egg dishes, vegetables, pasta, fish, even popcorn. Experiment with this versatile salt and enjoy.
Recommended Preparation Instructions:
Ready to use. Just add to recipe as called for.
Product Description
Mediterranean sea salt is combined with Black Summer truffles to bring out the intense flavors of this unique mushroom. The flavor of a Truffle is pervasive in a subtle way this enigma of taste is one of the reasons that Truffles have such a loyal following amongst food lovers. Much folklore has arisen around Truffles the tales of pigs and dogs which can find them, or flies that hover above Truffles. In any event, Truffles have created a following and a folklore because they are a delicious, interesting fungi
Physical
Color: White mixed with dark black with grayish specs.
Flavor: Typical of salt and truffle.
Size: 0-1 MM.
Chemical
Moisture: N/A
Sulfites: Negative
Heat Level: N/A
Ingredient Statement:
Sea Salt, Black Summer Truffle (Tuber aestivum/unicinatum).
Allergen Statement
None.
Packaging & Storage
Shelf Life: 24 months (under optimum storage conditions).
Packaging: Plastic jar.
Storage Conditions: Store in a dry, cool place.
About Nutritional Information
Chieftain Wild Rice Company gathers nutritional information from highly regarded sources. Nutritional analysis can vary due to growing conditions, frequency of testing, and other factors.
Nutrition Facts

Serving Size 1.5 g

Amount Per Serving

Calories 0

Calories from Fat 0

 

% Daily Value *

Total Fat 0g

0%

Saturated Fat0 g

0%

Trans Fat 0g

 

Cholesterol 0g

0%

Sodium 580mg

24%

Total Carbohydrate 0 g

0%

Dietary Fiber 0g

0%

Sugars0 g

 

Protein0 g
 

Vitamin A

0%

Vitamin C

0%

Calcium

0%

Iron

0%

* The Percent Daily Values are based on a 2,000 calorie diet.