BLACK TRUMPET MUSHROOM - Kosher/Gluten Free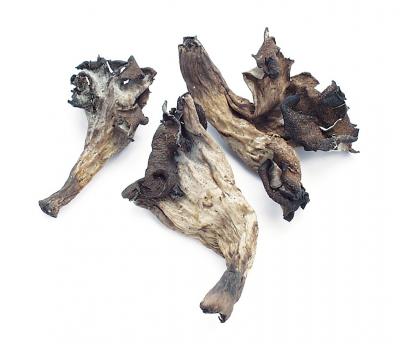 ---
BLACK TRUMPET MUSHROOM - Kosher/Gluten Free
BLTRUMP-1
Description:

Black Trumpet Mushrooms are distinctively aromatic and have an elegant buttery flavor that will compliment any recipe. The Black Trumpet is also known as the "horn of plenty". Fragrant and abundant, it is valued in French cuisine because of its unique flavor and texture. Black Trumpets are found in mixed deciduous woods, mostly under Oak or Beech trees on the ground during summer and fall. This fragile distinctly trumpet-shaped mushroom has a thin and waxy charcoal-gray outer surface while the inside is a velvety dark brown or almost black color. The size can range from 2 to 5 inches high.
Ingredient Statement:
Black Trumpet Mushrooms.
Black Trumpets add a delicious level of complexity to any meal. Black Trumpets work well as a flavoring ingredient in sauces, omelets, stir-fry, soups and pasta dishes. They mix well with onions, green beans, tomatoes, fresh herbs, cheese and meats. Delicious in vegetarian cooking with grains and rice dishes.
Recommended Preparation Instructions:
To reconstitute, place desired amount into a bowl covered with boiling water and let soak for 15-20 minutes and rinse.
Product Description
Black Trumpet also known as horn of plenty, is considered a great delicacy. This fragile, trumpet shaped mushroom has a waxy, charcoal-gray outer surface, while the inside is a velvety blackish-brown. This is an incredibly rich and buttery mushroom. The Black Trumpet can be found growing in large groups in damp deciduous woods, especially under oak or beech, during summer and fall.
Physical
Color: Charcoal gray outside, dark brown to black inside.
Flavor: Typical of dried wild mushrooms, earthy, smokey.
Size: Approximately ¼ to 1½ inches in length, ¼ to ½ inches in width.
Chemical
Moisture: <20%
Sulfites: None
Heat Level: N/A
Ingredient Statement:
Black Trumpet Mushrooms.
Allergen Statement
None.
Packaging & Storage
Shelf Life: Min. 12 months (under optimum storage conditions).
Packaging: Poly bag in box.
Storage Conditions: Store in a dry, cool place.
About Nutritional Information
Chieftain Wild Rice Company gathers nutritional information from highly regarded sources. Nutritional analysis can vary due to growing conditions, frequency of testing, and other factors.
Nutrition Facts

Serving Size 100g (uncooked)

Amount Per Serving

Calories 296

Calories from Fat 9

 

% Daily Value *

Total Fat 1g

2%

Saturated Fat 0g

0%

Trans Fat 0g

 
Cholesterol 0g

0%

Sodium 13mg

1%

Total Carbohydrate 75g

25%

Dietary Fiber 12g

48%

Sugars2 g

 
Protein 10g
 

Vitamin A

0%

Vitamin C

7%

Calcium

1%

Iron

11%

* The Percent Daily Values are based on a 2,000 calorie diet.