FREEKEH BROKEN - Kosher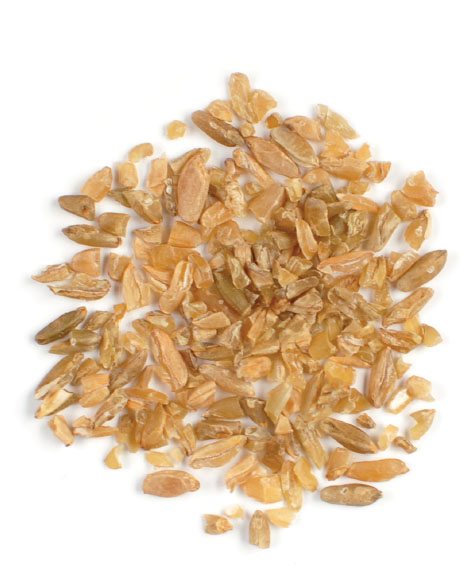 ---
FREEKEH BROKEN - Kosher
FREEKBR-10
Description:

Cracked Freekeh is a 100% all natural grain that's harvested while still soft, young, and green. This results in a highly nutritious grain that is then parched giving it a slightly smoky aroma and nutty toasted flavor. It's like a smoky cousin to bulgur wheat and a cross between brown rice and barley.
This Freekeh has been cracked to reduce cooking time. An ancient grain from 2300 BC, this Eastern Mediterranean protein-enriched super food is high in fiber (it has up to four times the amount of fiber found in brown rice) and iron. Freekeh is native of Lebanon, Jordan, Syria and Egypt.
No additives or preservatives are used.
Ingredient Statement:
Roasted Wheat Berries. (Contains Wheat, Gluten)
Use Cracked Freekeh instead of rice, pasta or farro. Make hearty and healthful soups and stews, add amazing texture and flavor to risotto and pilafs or use to create delicious salads. A healthy alternative to oatmeal for breakfast.
Toss cooked Freekeh with fresh greens and dried fruit.

For added flavor, use chicken stock when boiling.
Recommended Preparation Instructions:
Bring 4 cups water to a boil, stir in 2 cups Broken Freekeh.  Reduce heat to simmer and cook for 20 minutes or until desired texture.  Remove from heat and let rest covered for 10 minutes.
One cup dry yields 3 cups cooked.
Product Description
Freekeh is a 100 percent natural and highly nutritious grain that is making its way onto menus nationwide! Freekeh which means "rubbed one" in Ancient Aramaic, is a natural wheat that is harvested while soft, young and tender, then parched, roasted and dried. This process gives Freekeh its unique smoky aroma, nutty flavor and toasted taste. This highly nutritious super food contains up to four times the fiber of brown rice and is high in iron, packed with protein and considered a low GI food. Helpful in promoting a healthy digestive system, this grain has proven beneficial when managing diabetes. Described as a smoky cousin to bulgur wheat, Freekeh is native of Lebanon, Jordan, Syria and Egypt.
Physical
Color: Light to dark reddish tan.
Flavor: Nutty, smoky flavor.
Size: Broken wheat shaped grain.
Chemical
Moisture: N/A
Sulfites: N/A
Heat Level: N/A
Ingredient Statement:
Roasted Wheat Berries.
Allergen Statement
Contains Wheat, Gluten.
Packaging & Storage
Shelf Life: Min 12 months (under optimum storage conditions).
Packaging: Poly bag in box.
Storage Conditions: Store in a dry, cool place.
About Nutritional Information
Chieftain Wild Rice Company gathers nutritional information from highly regarded sources.  Nutritional analysis can vary due to growing conditions, frequency of testing, and other factors.
Nutrition Facts

Serving Size about 1/4 cup (45g)

Amount Per Serving

Calories 160

Calories from Fat 10

 

% Daily Value *

Total Fat 1g

2%

Saturated Fat 0g

0%

Trans Fat 0g

 

Cholesterol 0g

0%

Sodium 0mg

0%

Total Carbohydrate 32g

11%

Dietary Fiber 7g

28%

Sugars 0g

 

Protein 5g
 

Vitamin A

0%

Vitamin C

0%

Calcium

2%

Iron

10%

* The Percent Daily Values are based on a 2,000 calorie diet.