FLAX SEED, BROWN - Kosher/Gluten Free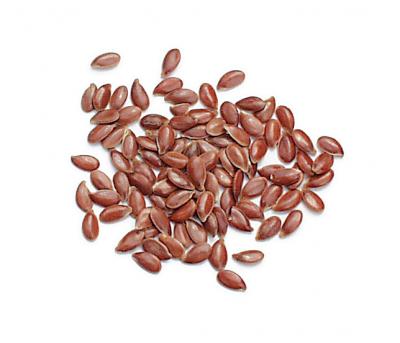 ---
FLAX SEED, BROWN - Kosher/Gluten Free
BRFLAX-28
Description:

The seeds of the Flax plant have been a source of food and medicine since ancient times. Used as provisions in Asia and Europe since at least 6000 BCE, the plant's brown seeds were commonly used to prepare balms and healing remedies for people. Today they are valued for their health benefits as well, treating a range of ailments from heart disease to lupus. There are two types of Flax Seed plants that have emerged through selective breeding; long stemmed types of Flax Seed plants grown for their fibers and short-stemmed types of Flax Seed plants grown for their seeds. The seeds from the Flax plant are flat and oval. They are pointed at one end and are light to dark russet brown. A yellow or gold variety is also grown but in much smaller quantities. With a slightly nutty flavor, Flax Seed are more than one third oil and are rich in essential fatty acids, fiber, and Omega-3 fatty acids. Flax Seed can be ground into a meal for baking muffins and breads. Recent scientific reports point out that flaxseed can have a positive influence on everything from cholesterol levels to constipation to cancer and heart disease when eaten as a nutritious part of your diet.
Ingredient Statement:
Brown Flax Seeds.
Sprinkle over cereal, stir-fry and hot grain dishes. Sprout Flax Seeds and add them to salads or sandwiches. Use Flax Seed whole or ground for flour in breads or mix in with oatmeal or yogurt. Simply add some Flax Seed meal to your favorite recipes and try the delicious results. Flax can also be used whole or lightly crushed in hot dishes and cereal. One tablespoon of ground Flax Seed and three tablespoons of water may serve as a replacement for one egg in baking by binding the other ingredients together.
Recommended Preparation Instructions:
Flax seed may be toasted prior to use.  It may be ground into flour and added to a recipe for baked goods, or added directly, as is.
Product Description
The seeds of the Flax plant have been used as food in Asia and Europe since at least 6000 BCE. Flax Seed has long been ground into a meal for baking. The National Cancer Institute has identified Flax Seed as a nutritious part of a diet which helps protect against both cancer and coronary disease.
Physical
Color: Light to dark brown.
Flavor: Nutty.
Size: Approximately 3/16 inch, oval/oblong shaped flattened seed.
Chemical
Moisture: N/A
Sulfites: N/A
Heat Level: N/A
Ingredient Statement:
Brown Flax Seed.
Allergen Statement
None.
Packaging & Storage
Shelf Life: Min 12 months (under optimum storage conditions).
Packaging: Plastic jar.
Storage Conditions: Store in a dry, cool place.
About Nutritional Information
Chieftain Wild Rice Company gathers nutritional information from highly regarded sources. Nutritional analysis can vary due to growing conditions, frequency of testing, and other factors.
Nutrition Facts

Serving Size 100g (uncooked)

Amount Per Serving

Calories 534

Calories from Fat 378

 

% Daily Value *

Total Fat 42g

65%

Saturated Fat 4g

20%

Trans Fat 0g

 

Cholesterol 0g

0%

Sodium 30mg

1%

Total Carbohydrate 29g

10%

Dietary Fiber 27 g

108%

Sugars 2g

 

Protein 18g
 

Vitamin A

0%

Vitamin C

2%

Calcium

26%

Iron

33%

* The Percent Daily Values are based on a 2,000 calorie diet.