TEFF, BROWN - Kosher/Gluten Free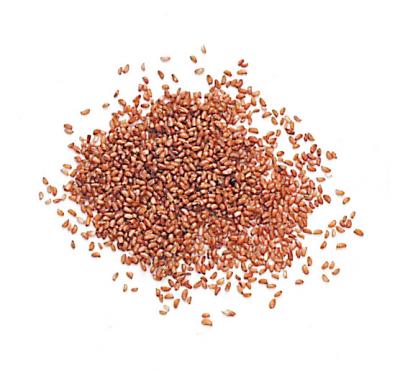 ---
TEFF, BROWN - Kosher/Gluten Free
TEF-28
Description:

Teff is the seed of a fine stemmed, tufted annual grass. The significant characteristic of Teff is the small size of this seed. The word Teff is thought to have been derived from the Amharic word Teffa, which means "lost," because the seed is so tiny and easy to lose. It is the smallest grain in the world, measuring only about 1/32 of an inch. This tiny grain also known as love grass and annual bunch grass is an expensive grain to harvest. Because the grains of Teff are so small, the majority of the grain consists of the bran and germ, the most nutritious parts of any grain. Teff has a very high calcium content and is high in protein, carbohydrates, fiber and iron. Teff has a molasses-like sweet and nutty flavor suggestive of hazelnuts. Teff should be dry roasted, soaked or sautéed prior to use. Teff contains no gluten so it is appropriate for those with gluten intolerance. Use to replace sesame seeds in recipes.
Ingredient Statement:
Teff Brown.
Teff is extremely versatile and is a good thickening agent for soups, stews, gravies and puddings. Teff can be mixed with herbs, seeds, beans or tofu with select seasoning to make grain burgers. Use as a morning cereal that is nutritious as well delicious. Toasting is recommended prior to cooking.
Recommended Preparation Instructions:
For best results, toast Teff prior to cooking. Bring 4 cups of liquid and 1 cup of Teff to a boil. Reduce heat, simmer for 15-20 minutes until tender, stirring occasionally to prevent lumping.
One cup dry yields 3 cups cooked.
Product Description
The defining characteristic of Teff is the small size of this seed. In fact, the English translation of Teff from its Ethiopian origins means lost, because the seed is so tiny and easy to lose. Teffs small size makes harvesting difficult so it is an expensive grain. Teff is high in protein and carbohydrates and is a good source of calcium and iron. Teff has a slightly sweet and potent nutty flavor reminiscent of hazelnuts. Since Teff is so fine in texture and difficult to chew, dry-roasting, soaking and sautéing are recommended prior to use.
Physical
Color: Light tan to dark brown.
Flavor: Nutty, wheat-like.
Size: Approximately 1/16 inch granules.
Chemical
Moisture: NA
Sulfites: Negative
Heat Level: N/A
Ingredient Statement:
Teff Brown.
Allergen Statement
None.
Packaging & Storage
Shelf Life: 12 months (under optimum storage conditions).
Packaging: Plastic jar.
Storage Conditions: Store in a dry, cool place.
About Nutritional Information
Chieftain Wild Rice Company gathers nutritional information from highly regarded sources. Nutritional analysis can vary due to growing conditions, frequency of testing, and other factors.
Nutrition Facts
Serving Size 45g
Amount Per Serving
Calories 160
Calories from Fat 10
 
% Daily Value *
Total Fat 1g
2%
Saturated Fat 0g
0%
Trans Fat 0g
 
Cholesterol 0mg
0%
Sodium 0mg
0%
Total Carbohydrate 32g
11%
Dietary Fiber 6g
24%
Sugars 0g
 
Protein 5g
 
Vitamin A
0%
Vitamin C
0%
Calcium
4%
Iron
9%
* The Percent Daily Values are based on a 2,000 calorie diet.