SEA SALT, CHILE VERDE - Gluten Free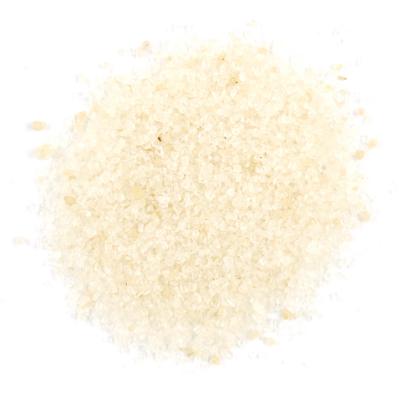 ---
SEA SALT, CHILE VERDE - Gluten Free
CHILVERDSALT-32
Description:

Chieftain's Chile Verde sea salt has a flavor that can compliment mixed drinks, fresh vegetables and grilled meats and fish. Atlantic sea salt is combined with green chiles to make this robust salt. Use on any dish that would be complimented by a hearty green chili flavor. Try a pinch on some chocolate ice cream for a unique flavor explosion.
Ingredient Statement:
Sea Salt, Green Chiles.
Meat marinades and vinaigrette are a zesty venue for this chili flavored salt. Sprinkle on grilled meat and fish before cooking, try some on baked breads and muffins.
Recommended Preparation Instructions:
Ready for use, just add to recipe.
Product Description
Atlantic sea salt is combined with natural green chiles to create a unique, three dimensional flavor explosion. Great for Mexican dishes or on seafood.
Physical
Color: Off white, cream color.
Flavor: Typical of salt with hint of chili to it.
Size: 1-2 MM.
Chemical
Moisture: N/A
Sulfites: N/A
Heat Level: N/A
Ingredient Statement:
Sea Salt, Green Chiles.
Allergen Statement
None.
Packaging & Storage
Shelf Life: Min 24-36 months (under optimum storage conditions).
Packaging: Plastic jar.
Storage Conditions: Store in a dry, cool place.
About Nutritional Information
Chieftain Wild Rice Company gathers nutritional information from highly regarded sources. Nutritional analysis can vary due to growing conditions, frequency of testing, and other factors.
Nutrition Facts

Serving Size 1/4 tsp  (1.5g)

Amount Per Serving

Calories 0
Calories from Fat 0
 
% Daily Value *
Total Fat 0g
0%
Saturated Fat 0g
0%
Trans Fat 0g
 
Cholesterol 0g
0%
Sodium 580mg
24%
Total Carbohydrate 0g
0%
Dietary Fiber 0g
0%
Sugars0 g
 
Protein 0g
 
Vitamin A
0%
Vitamin C
0%
Calcium
0%
Iron
0%
* The Percent Daily Values are based on a 2,000 calorie diet.