CHRISTMAS BEAN BLEND - Kosher/Gluten Free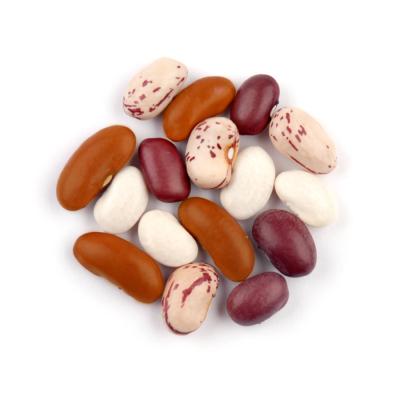 ---
CHRISTMAS BEAN BLEND - Kosher/Gluten Free
CHRISMIX-10
Description:

Our Christmas Bean Blend is a selective blend of colorful beans that will compliment any dish! Christmas Bean Blend contains Small Red Beans, French Navy Beans, Light Red Kidney Beans and Cranberry Beans (Borlotti). Rich in flavor and looks this blend can be used in chili, salads, cassoulet and vegetarian dishes.
Ingredient Statement:
Beans.
Cook beans, cool and toss with your favorite herbs and vinaigrette for a cool summer salad. Prepare Christmas Bean Blend in a hearty baked bean dish with bacon, dry mustard, vinegar, onions, molasses and brown sugar.
Recommended Preparation Instructions:
Soak overnight. Rinse and place in a large pot and cover with fresh water. Bring to a boil for 3 minutes, reduce heat and simmer, covered, for 60 hours until tender.
One cup dry yields 3 cups cooked.
Product Description
An exciting blend of beans typically containing the Cranberry bean which turns a lovely shade of pink when cooked, the deep brick colored Small Red bean and the more common French Navy & Red Kidney beans. These beans together offer a mild, sweet & full flavor experience to any dish.
Physical
Color: White, red, pink with maroon.
Flavor: Typical of beans, earthy.
Size: See individual specifications
Chemical
Moisture: N/A
Sulfites: N/A
Heat Level: N/A
Ingredient Statement:
Beans.
Allergen Statement
None.
Packaging & Storage
Shelf Life: Min 12 months (under optimum storage conditions).
Packaging: Poly bag in box.
Storage Conditions: Store in a dry, cool place.
About Nutritional Information
Chieftain Wild Rice Company gathers nutritional information from highly regarded sources. Nutritional analysis can vary due to growing conditions, frequency of testing, and other factors.
Nutrition Facts

Serving Size 100 g (uncooked)

Amount Per Serving
Calories 336.6
Calories from Fat 10.8
 
% Daily Value *
Total Fat 1g
2%
Saturated Fat 0g
0%
Trans Fat 0g
 
Cholesterol 0g
0%
Sodium 8.2mg
0%
Total Carbohydrate 61g
20%
Dietary Fiber 19g
76%
Sugars 1.6g
 
Protein 22.4g
 
Vitamin A
0%
Vitamin C
4%
Calcium
11%
Iron
32%
* The Percent Daily Values are based on a 2,000 calorie diet.