LIMA, CHRISTMAS - Kosher/Gluten Free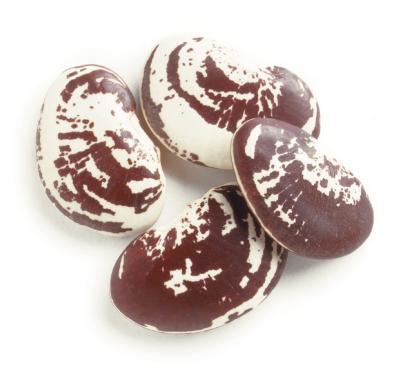 ---
LIMA, CHRISTMAS - Kosher/Gluten Free
CHRIS-10
Description:

Christmas Limas are an Heirloom bean, and are related to the Lima bean. These "pretty" beans are similar to the Peruvian Lima but plumper. Christmas Limas are so named due to their festive color, a maroon batik pattern over a creamy background, and a creamy chestnut flavor. Referred to as a speckled Lima or Butter bean, they are also called a Calico bean. Christmas Limas retain their markings after cooking and are about 7/8 inch long and very flat. Christmas Lima beans are a beautiful alternative to potatoes and pasta for starch options.
Ingredient Statement:
Christmas Lima Beans.
Heirloom Bean.
This strikingly vibrant bean is colorful and tasty when mixed with sweet corn to make a traditional succotash. A warm and hearty addition to soups, stews and casseroles, highlight Christmas Limas in gourmet salads or with pasta and cold vegetables. Grilled anchovies with Christmas Limas, mint and chili oil, barbecued baby octopus with Christmas Limas, barley salad with Christmas Limas, or smoked sausage with Christmas Limas are just some of the unique ways to use these striking beans.
Recommended Preparation Instructions:
Soak overnight. Rinse and place in a large pot and cover with fresh water. Bring to a boil for 3 minutes, reduce heat and simmer, covered, for 60 minutes until tender. This bean produces foam, so skim the water regularly.
One cup dry yields 2-1/4 cups cooked.
Product Description
Christmas Limas are related to the lima bean, similar to the giant Peruvian Lima but plumper. This is a large bean with a maroon batik pattern over a creamy background. The Christmas Lima is also known as a speckled lima, butter bean, or calico bean. The bean is 7/8 long and maintains its markings after cooking. The Christmas Lima is an heirloom bean, which means the bean was handed down within a small community for several generations. The bean's chestnut flavor combined with its festive coloring are the reason for the name Christmas Lima.
Physical
Color: Creamy background with a maroon batik pattern.
Flavor: Chestnut-like.
Size: Approximately 7/8 inch in length, typical lima bean shape.
Chemical
Moisture: N/A
Sulfites: N/A
Heat Level: N/A
Ingredient Statement:
Christmas Lima Beans.
Allergen Statement
None.
Packaging & Storage
Shelf Life: Min 12 months (under optimum storage conditions).
Packaging: Poly bag in box.
Storage Conditions: Store in a dry, cool place.
About Nutritional Information
Chieftain Wild Rice Company gathers nutritional information from highly regarded sources. Nutritional analysis can vary due to growing conditions, frequency of testing, and other factors.
Nutrition Facts

Serving Size 100g (uncooked)

Amount Per Serving

Calories 338

Calories from Fat 9

 

% Daily Value *

Total Fat 1g

2%

Saturated Fat 0g

0%

Trans Fat 0g

 
Cholesterol 0mg

0%

Sodium 18mg

1%

Total Carbohydrate 63g

21%

Dietary Fiber 19g

76%

Sugars9 g

 
Protein g
 

Vitamin A

0%

Vitamin C

0%

Calcium

8%

Iron

44%

* The Percent Daily Values are based on a 2,000 calorie diet.