CRANBERRIES - Gluten Free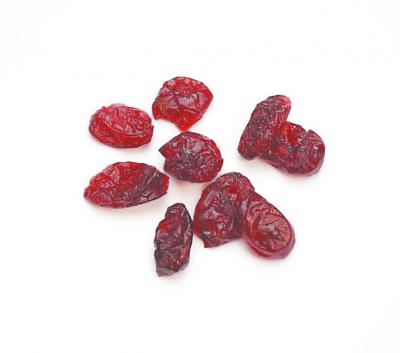 ---
CRANBERRIES - Gluten Free
CBERRY-5
Description:

Cranberries grow in rich, sandy soil in Cranberry "Bogs". Cranberries are low, creeping shrubs or vines with small evergreen leaves. The fruit is a berry that is larger than the leaves of the plant. Cranberries are harvested in the fall when the fruit takes on its distinctive scarlet red color. When ready, the bogs are flooded to facilitate harvesting because cranberries float. This makes it easy to separate from their bushes. Cranberries are known by other names such as mossberry, fenberry and even bounce berries (a bounce board is used to sort good and bad berries). Traditionally associated with Thanksgiving, dried Cranberries are available year round and add a wonderful zest to winter stuffing, rice pilaf and summer salads. Cranberries are a great source of Vitamin C and provide certain health benefits to the cardiovascular system and immune system. Our Cranberries are mechanically dried and contain no sulfites. Cranberries can be used in meat processing combined with wild rice to make gourmet sausages or bratwurst.
Ingredient Statement:
Cranberries, Sugar, Sunflower Oil.
The ruby color of the Cranberry makes it a colorful component for Holiday and every-day meals. Use Cranberries with couscous salad with apples and chicken. Prepare wild rice with cranberries and caramelized onions. Hearty stews can be made with Cranberries, or make a rich dessert with baked Cranberries and pears. Tasty in salads, muffins, breads, compotes, chutneys, sauces, beverages and stuffing.
Recommended Preparation Instructions:
There is no preparation needed for dried fruit.  If used in baking, you may want to rehydrate.  To rehydrate dried fruit, pour boiling water over the fruit and let sit covered for 5 to 10 minutes. Drain well before using.
Product Description
Cranberries are also called Bounce Berries, a fresh Cranberry will bounce if dropped.  Our extra-dried Cranberries are carefully selected with a laser sorter.  They are sliced in half and infused in sugar syrup.  They are dried to moisture specification and lightly sprayed with oil.  This process maintains the natural color and flavor with no artificial ingredients added.
Physical
Color: Natural red color, typical of cranberry.
Flavor: Typical of cranberries.
Size: Approximately ½-¾ inch in length.
Chemical
Moisture: 8-12%
Sulfites: N/A
Heat Level: N/A
Ingredient Statement:
Cranberries, Sugar, Sunflower Oil.
Allergen Statement
None.
Packaging & Storage
Shelf Life: Min 12 months (under optimum storage conditions).
Packaging: Poly bag in box.
Storage Conditions: Store in a dry, cool place.
About Nutritional Information
Chieftain Wild Rice Company gathers nutritional information from highly regarded sources.  Nutritional analysis can vary due to growing conditions, frequency of testing, and other factors.
Nutrition Facts

Serving Size 100g

Amount Per Serving

Calories 365

Calories from Fat

 

% Daily Value *

Total Fat

1.58 g

Saturated Fat

0g

Trans Fat

 0g

Cholesterol

0mg

Sodium

50mg

Total Carbohydrate

84.42g

Dietary Fiber

3.9g

Sugars

 71.8g

Protein
0g 

Vitamin A

0RE

Vitamin C

0mg

Calcium

43mg

Iron

0.4mg

* The Percent Daily Values are based on a 2,000 calorie diet.