DE ARBOL, FIRST QUALITY - Kosher/Gluten Free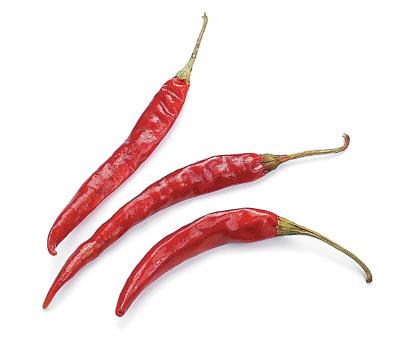 ---
DE ARBOL, FIRST QUALITY - Kosher/Gluten Free
DEARBOLFIR-1
Description:

Chili De Arbol (ARE-bowl) is Spanish for "small tree" and that describes this sassy looking pepper with woody stems attached to the pod. These beautiful red chiles are thought to have derived from the Cayenne pepper and related to the Pequin. Slender and tapered, this chili is also called "birds beak" or "rat tail". Easily dried and extremely colorful, they can be used to decorate craft work or make wreaths, flavor oils and vinegars or add heat and flavor to your favorite cuisine. These Chiles grown on a lush plant with thick, woody stems. The De Arbol range in size from 2-3 inches long and about ¼ to 3/8 inch in diameter. Chile De Arbol is thin fleshed with a mild grassy flavor that is smoky and extremely hot. Approx. Scoville heat units 15,000 - 30,000.
Ingredient Statement:
Dried De Arbol Chiles.
Use anywhere you want to add intense heat. Throw some De Arbol into chili, Salsa, hot sauces, tacos, stir-fry, curry, soups, stews and chutneys for a heated adventure!
Recommended Preparation Instructions:
Rinse product first with warm water. Soak in hot water for 10 minutes to rehydrate or add directly to recipe that will cook at least 10 minutes. Once rehydrated, dice or puree and add to a recipe.
Product Description
De Arbol means tree like in Spanish. The plant has a thick, upright, woody stem and the chile itself is narrow, curved and bright red in color. Believed to be closely related to the pequin, the De Arbol is thin fleshed, with a tannic flavor and searing heat. This chile has a heat range of 7.5 on the heat scale of 1-10. De Arbol Chiles are comparable to a Cayenne Pepper
Physical
Color: Bright red to light reddish brown.
Flavor: Pungent chile flavor, tannic, smokey, grassy.
Size: Approximately 2-3 inches in length.
Chemical
Moisture: <20%
Sulfites: N/A
Heat Level: Approx. 15,000-30,000 Scoville Heat Units
Ingredient Statement:
Dried De Arbol Chiles.
Allergen Statement
None.
Packaging & Storage
Shelf Life: Min 12 months (under optimum storage conditions).
Packaging: Poly bag in box.
Storage Conditions: Store in a dry, cool place.
About Nutritional Information
Chieftain Wild Rice Company gathers nutritional information from highly regarded sources. Nutritional analysis can vary due to growing conditions, frequency of testing, and other factors.
Nutrition Facts
Serving Size 100g
Amount Per Serving
Calories 324
Calories from Fat 54
 
% Daily Value *
Total Fat 6g
9%
Saturated Fat 1g
5%
Trans Fat 0g
 
Cholesterol 0mg
0%
Sodium 91mg
4%
Total Carbohydrate 70g
23%
Dietary Fiber 29g
116%
Sugars 41g
 
Protein 11g
 
Vitamin A
530%
Vitamin C
52%
Calcium
5%
Iron
33%
* The Percent Daily Values are based on a 2,000 calorie diet.