MANGO, DICED - Kosher/Gluten Free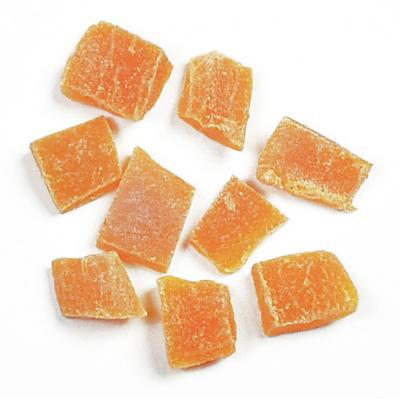 ---
MANGO, DICED - Kosher/Gluten Free
MANDICE-5
Description:

Mangoes are native to Southeast and South Asia. Hindus referred to Mangoes as the "food of the gods" and the leaves are ritually used for floral decorations at religious ceremonies. The Mango is in the same family as poison ivy. Today Mangoes are grown across the world as a fruit tree in frost-free tropical and warmer subtropical climates. Mangoes can range in size from 6 ounces up to 4 pounds. The flesh is a deep orange and tastes roughly like a cross between a peach and a pineapple with an exotically sweet flavor. Mango Chutney is a popular dish in India; in the Philippines unripe mango is eaten with fermented minute shrimp paste which comes in sweet, salty and spicy flavours. In some parts of South-east Asia, Mangoes are popular pickled with fish sauce and rice vinegar. Mango is high in Vitamins A and C and low in sodium and high in fiber. Diced Mangoes are easy to use in salads, pilaf, stir-fry, pastries, granola and desserts.
Ingredient Statement:
Mango, Sugar, Citric Acid, Sulfur Dioxide as a preservative, FD&C Yellow #5 & #6.
Our Mangoes are mechanically dried and contain sulfites.
Sweet glutinous rice flavoured with coconut then served with sliced mango on top is a delicious dessert. A traditional Indian drink uses a mixture of yogurt and milk as the base along with Mango, then flavoured with cardamom. Pieces of Diced Mangoes can be used in ice cream; they can be substituted for peaches in a pie; or put Mangoes in a blender with milk, a little sugar, and crushed ice for a refreshing beverage. Traditional uses are for any baked dessert, rice pilaf, puddings, pastries, breads, muffins, snack mixes and cereals.
Recommended Preparation Instructions:
There is no preparation needed for dried fruit. If used in baking, you may want to rehydrate. To rehydrate dried fruit, pour boiling water over the fruit and let sit covered for 5-10 minutes. Drain well before using.
Product Description
Mangoes are native to Southeast and South Asia. In India the Mango tree is sacred for some religious groups. Today they are grown across the world in subtropical climates. Mango Chutney is one of the most popular pickles in India; there are hundreds of recipes for this condiment. Use in baked goods, salads, sauces, stuffings, trail mixes, hot cereals, muffins, scones, fruit cakes and for homemade ice cream. Dried fruits may be eaten right out of the bag as a convenient and healthy snack. mix with granola and almonds or in a trail mix. Contains sulfites.
Physical
Color: Light orange to deep orange-red.
Flavor: Typical of mangos.
Size: Approximately 3/8 inch diced.
Chemical
Moisture: Maximum 15%
Sulfites: 300ppm
Heat Level: N/A
Ingredient Statement:
Mango, Sugar, Citric Acid, Sulfur Dioxide as a preservative, FD&C Yellow #5 & #6.
Allergen Statement
None.
Packaging & Storage
Shelf Life: Min 12 months (under optimum storage conditions).
Packaging: Poly bag in box.
Storage Conditions: Store in a dry, cool place.
About Nutritional Information
Chieftain Wild Rice Company gathers nutritional information from highly regarded sources. Nutritional analysis can vary due to growing conditions, frequency of testing, and other factors.
Nutrition Facts

Serving Size 1/4 cup (40g)

Amount Per Serving

Calories 140

Calories from Fat 0

 

% Daily Value *

Total Fat 0g

0%

Saturated Fat 0g

0%

Trans Fat 0g

 
Cholesterol 0g

0%

Sodium 70mg

3%

Total Carbohydrate 34g

11%

Dietary Fiber 1g

4%

Sugars 26g

 
Protein 0g
 

Vitamin A

0%

Vitamin C

2%

Calcium

4%

Iron

4%

* The Percent Daily Values are based on a 2,000 calorie diet.