CHERRIES, TART - Gluten Free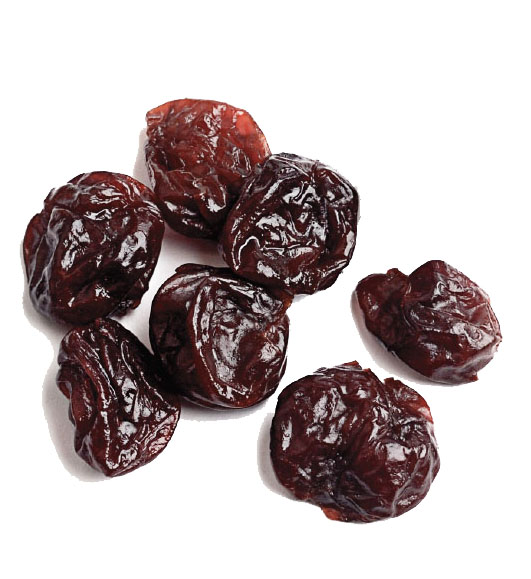 ---
CHERRIES, TART - Gluten Free
TART-5
Description:

Ruby red cherries have pleased palates for centuries. Throughout history, Cherries have been lauded for both their luscious fruit as well as their gorgeous blossoms. Tourists flock yearly to Washington, D.C. to view the ornamental Cherry trees that the Governor of Tokyo presented to America's Capital in 1912. There are two main types of cherries, sweet and sour, the Tart Cherry having the smaller of the fruit. Tart Cherries with their high production costs and vulnerability to rain and hail are a relatively expensive fruit that is in high demand. Cherries are high in anti-oxidants and contain anthocyanins which have been shown to reduce pain and inflammation.
Ingredient Statement:
Cherries, Sugar, Sunflower Oil. Cherries are a natural product and may contain an occasional pit.
Expand your menus with taste-tempting recipes that include this succulent fruit. Tart Cherries create a unique contrast in black bean chili. Mix together a rice pilaf with Tart Cherries and lentils or use in pastries, dessert dishes, salads, cereals and snack mixes. Tart Cherries make rich and savory chutneys and sauces.
Recommended Preparation Instructions:
There is no preparation needed for dried fruit. If used in baking, you may want to rehydrate. To rehydrate dried fruit, pour boiling water over the fruit and let sit covered for 5 to 10 minutes. Drain well before using.
Product Description
Tart Cherries date back to 300 BC. They are named for the ancient town of Cerasus in Turkey. Though wonderful to eat, Tart Cherries are equally as prized for the beautiful blossoming trees on which they grow. In 1912, the Governor of Tokyo presented the now famous cherry trees to Washington D.C. where today they are a tourist attraction. No sulfites. Dried Tart Cherries are mechanically dried
Physical
Color: Deep red.
Flavor: Tart.
Size: Approximately 5/8 inch in diameter, round, wrinkled skin.
Chemical
Moisture: <20%
Sulfites: N/A
Heat Level: N/A
Ingredient Statement:
Cherries, Sugar, Sunflower Oil. Cherries are a natural product and may contain an occasional pit.
Allergen Statement
None.
Packaging & Storage
Shelf Life: Min 12 months (under optimum storage conditions).
Packaging: Poly bag in box.
Storage Conditions: Store in a dry, cool place.
Microbiological
SPC: <50,000 cfu / g
COLIFORM: <100 cfu / g
YEAST: <1000 cfu / g
MOLD: <1000 cfu / g
Due to the nature of raw, agricultural products, the microbiological data provided should be considered as guidelines.
About Nutritional Information
Chieftain Wild Rice Company gathers nutritional information from highly regarded sources. Nutritional analysis can vary due to growing conditions, frequency of testing, and other factors.
Nutrition Facts
Serving Size 100g (uncooked)
Amount Per Serving
Calories 335
Calories from Fat 0
% Daily Value *
Total Fat 0g
0%
Saturated Fat 0g
0%
Trans Fat 0g
Cholesterol 0g
0%
Sodium20 mg
1%
Total Carbohydrate84 g
28%
Dietary Fiber 4g
16%
Sugars 69g
Protein 2g
Vitamin A
16%
Vitamin C
0%
Calcium
3%
Iron
6%
* The Percent Daily Values are based on a 2,000 calorie diet.