APRICOTS, TURKISH, WHOLE #4 - Gluten Free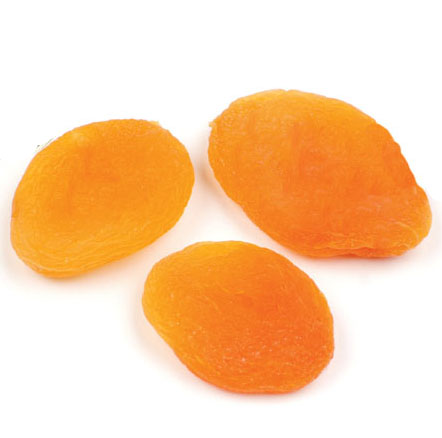 ---
APRICOTS, TURKISH, WHOLE #4 - Gluten Free
APR-5
Description:

Turkish Apricots originally came from China, cuttings from the Apricot made their way from the Persian Empire to the Mediterranean and later in the hands of the Spanish explorers, the Apricot made its way to the New World. Apricots now thrive in most temperate climates and Turkey leads the way for producing some of the world's finest Apricots. The Apricot is a small sweet fruit, smaller than a peach and golden orange in color. Apricots have a smooth oval pit that falls out easily when the fruit is halved. Our Turkish Apricots are sun-dried and are bright orange in color. Apricots are rich in Vitamin A and a healthy source of iron, calcium and beta-carotene. Dried Turkish Apricots offer the delicate, sweet taste of fresh Apricots, without the limited seasonality. Apricots can be used to flavor liqueurs and brandy and make tempting jams, jellies and chutneys. Excellent in baked goods and salads, scones, fruitcakes, baked desserts, pasta dishes, fruit salads and waffles. Use Turkish Apricots to add elegance to your favorite meal.
Ingredient Statement:
Apricots, Sulfur Dioxide (to maintain color), Potassium Sorbate (as a preservative).
Apricots are a natural product and may contain the occasional pit.
Product Description
Turkish Apricots date back thousands of years and are believed to have originated in China. In Hellenistic mythology Apricots are called the golden apples of Hesperides. Apricots are a beautiful bright orange in color with a delicate, sweet flavor. Fresh Apricots have a very short growing season and are very fragile. The dried fruit offers all of the taste of its fresh counterpart without the limited seasonality. Contains sulfites. Turkish Apricots are Sun-dried.
Physical
Color: Bright orange.
Flavor: Typical of apricots, sweet.
Size: #4 whole apricots, approximately 1 – 1½ inches in diameter.
Chemical
Moisture: <25%
Sulfites: >2,000ppm
Heat Level: N/A
Ingredient Statement:
Apricots, Sulfur Dioxide (to maintain color), Potassium Sorbate (as a preservative).
Apricots are a natural product and may contain the occasional pit.
Allergen Statement
None.
Packaging & Storage
Shelf Life: Min 12 months (under optimum storage conditions).
Packaging: Poly bag in box.
Storage Conditions: Store in a dry, cool place.
Microbiological
SPC: <50,000 cfu / g
COLIFORM: <100 cfu / g
YEAST: <1000 cfu / g
MOLD: <1000 cfu / g
Due to the nature of raw, agricultural products, the microbiological data provided should be considered as guidelines.
About Nutritional Information
Chieftain Wild Rice Company gathers nutritional information from highly regarded sources. Nutritional analysis can vary due to growing conditions, frequency of testing, and other factors.
Nutrition Facts

Serving Size 100 (uncooked)

Amount Per Serving
Calories 100
Calories from Fat 0
% Daily Value *
Total Fat 0g
0%
Saturated Fat 0
0%
Trans Fat 0g
Cholesterol 0g
0%
Sodium 0mg
0%
Total Carbohydrate 25g
8%
Dietary Fiber 3g
12%
Sugars 21g
Protein 1g
Vitamin A
30%
Vitamin C
0%
Calcium
2%
Iron
6%
* The Percent Daily Values are based on a 2,000 calorie diet.
Add color and pizzaz to your couscous salads with the addition of diced apples, Turkish Apricots and tart currents. Turkish Apricots are superb with chicken, pork, lamb and wild game. Try Apricots with rum muffins or in coconut bread pudding, add to trail mix, dip them in chocolate or add to your ideal cookie recipe!
Recommended Preparation Instructions:
There is no preparation needed for dried fruit. If used in baking, you may want to rehydrate. To rehydrate dried fruit, pour boiling water over the fruit and let sit covered for 20 minutes. Drain well before using.