FENNEL POLLEN - Kosher/Gluten Free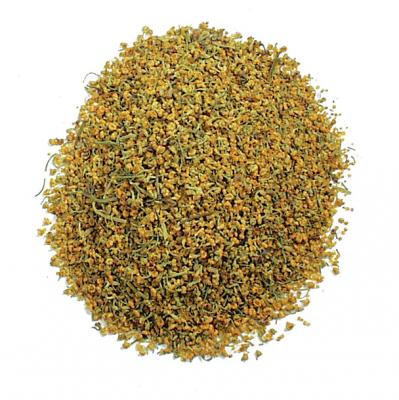 ---
FENNEL POLLEN - Kosher/Gluten Free
FENNPOL-1
Description:

Often referred to as the Spice of Angels, these tiny golden pollen are collected from wild Fennel. The flowers are picked at full bloom and then dried and screened. The flavor of this tiny pollen is intoxicating! Extremely aromatic, this pungent pollen works well with any food. Mix it with other seasonings for wonderful blend to sprinkle on fish, chicken, lamb, potatoes or vegetables.
Ingredient Statement:
Fennel Pollen.
Use as a dry rub on meats before roasting or grilling, sprinkle on top of fish, or substitute for saffron in rice, pasta, or risotto dishes or sprinkle on top of salads.
Recommended Preparation Instructions:
Ready to use. Just add to recipe as called for.
Product Description
Fennel Pollen is collected from wild fennel. Flowers are picked at full bloom, and then dried and screened to assure the sweetest and best flavor possible. Often referred to as the Spice of Angels, Fennel Pollen makes any ordinary dish extraordinary.
Physical
Color: Bright golden yellow with green undertones.
Flavor: Sweet.
Size: Typically size of pollen in flower stems.
Chemical
Moisture: 
Sulfites: Negative
Heat Level: N/A
Ingredient Statement:
Fennel Pollen.
Allergen Statement
None.
Packaging & Storage
Shelf Life: Min 12 months (under optimum storage conditions).
Packaging: Plastic jar.
Storage Conditions: Store in a dry, cool place.
About Nutritional Information
Chieftain Wild Rice Company gathers nutritional information from highly regarded sources. Nutritional analysis can vary due to growing conditions, frequency of testing, and other factors.
Nutrition Facts

Serving Size 100g

Amount Per Serving

Calories 345

Calories from Fat 135

 

% Daily Value *

Total Fat 15g

23%

Saturated Fat 0g

0%

Trans Fat 0g

 

Cholesterol 0g

0%

Sodium 88mg

4%

Total Carbohydrate 52g

17%

Dietary Fiber 40g

160%

Sugars 0g

 

Protein 16g
 

Vitamin A

3%

Vitamin C

35%

Calcium

120%

Iron

106%

* The Percent Daily Values are based on a 2,000 calorie diet.