GOJI BERRIES (OG) - Kosher/Gluten Free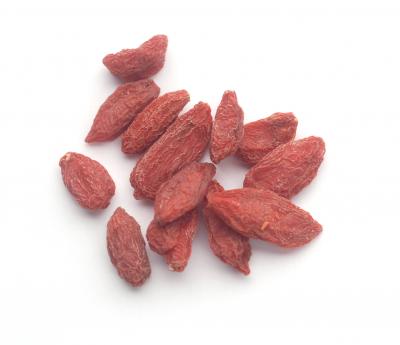 ---
GOJI BERRIES (OG) - Kosher/Gluten Free
GOJI-1
Description:

Goji Berries are the bright red, oval shaped fruit of the Boxthorn plant. Goji Berries are also known as Wolfberries. Goji Berries are about 1-2 centimeters long and have been used for years in traditional Chinese medicine. These berries are rich in antioxidants and are prized for their sweet, chewy texture with a flavor similar to cherries and plums.
Ingredient Statement:
Organic Goji Berries (Barbary Wolfberry).
Goji Berries are a flavorful additive to any recipe calling for dried fruit. Goji berries have a raisin like texture and are a colorful compliment in sauces, jams, cookies, relish, pies, soups and even salads. Sprinkle some in your trail mix, eat them straight from the bag, toss onto cold and hot cereals or blend in smoothies. Goji berries add a mild sweetness to grain dishes, stews and baked goods.
Recommended Preparation Instructions:
There is no preparation needed for dried fruit. If used in baking, you may want to rehydrate. To rehydrate dried fruit, pour boiling water over the fruit and let sit covered for 5 to 10 minutes. Drain well before using.
Product Description
Goji Berries, also known as Wolfberries, are the fruit of boxthorn plants. Goji Berries are considered one of the very nutritious super fruits, rich in antioxidants. They are used by practitioners of Chinese medicine. Goji berries are almost always found in dried form, rather than fresh. They are prized for their sweet, nutty flavor, and are used in snacks, beverages and medicines.
Physical
Color: Deep red-orange.
Flavor: Slightly tart, yet sweet.
Size: Approximately ½ inch in length.
Chemical
Moisture: <15%
Sulfites:
Heat Level: N/A
Ingredient Statement:
Organic Goji Berries (Barbary Wolfberry).
Allergen Statement
None.
Packaging & Storage
Shelf Life: Min 12 months (under optimum storage conditions).
Packaging: Poly bag in box.
Storage Conditions: Store in a dry, cool place.
About Nutritional Information
Chieftain Wild Rice Company gathers nutritional information from highly regarded sources. Nutritional analysis can vary due to growing conditions, frequency of testing, and other factors.
Nutrition Facts
Serving Size 100g (uncooked)
Amount Per Serving
Calories 360
Calories from Fat 32.1
 
% Daily Value *
Total Fat 4g
5%
Saturated Fat 0g
0%
Trans Fat 0g
 
Cholesterol 0g
0%
Sodium 318mg
13%
Total Carbohydrate 68g
23%
Dietary Fiber 7g
28%
Sugars 54g
 
Protein 11g
 
Vitamin A
7%
Vitamin C
53%
Calcium
7%
Iron
28%
* The Percent Daily Values are based on a 2,000 calorie diet.