HONEY, GRANULATED - Kosher/Gluten Free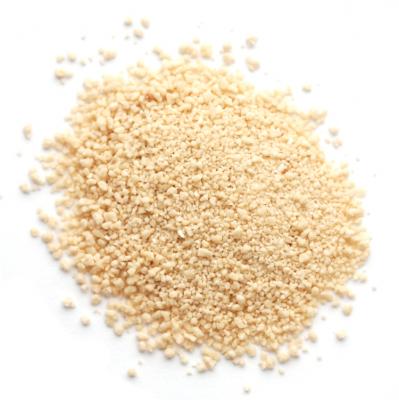 ---
HONEY, GRANULATED - Kosher/Gluten Free
HONEYGRAN-24
Description:

Bees from nectar collected from flowers prepare honey, the first natural sweetener known to man. This ambrosial sweetener was depicted in cave paintings from prehistoric times and early civilizations like the Greeks and Romans called it "the nectar of the gods". Honey comes in a variety of colors and flavors dependant on the predominant plants the bees have collected nectar from. Honey ranges in flavor from mild to strong and balmy to pungent. Chieftain's Granulated Honey consists of small, coarse cut pellets of honey about the size of a pinhead. Our Granulated Honey is light tan to cream color with a delicate sweet flavor. Perfect for use in beverages. Honey is a sweet topping for cereal or can be used as a glaze for meats. Due to the presence of endospores in Honey, it is not recommended for small children.
Ingredient Statement:
Granulated Honey (refinery syrup, honey).
Honey can be substituted for sugar in recipes but since it is sweeter you may have to adjust the amount used. When baking with Honey, your results will have a firmer, heavier texture. Use in beverages, sauces, glazes, or add to your favorite recipe replacing the sugar.
Recommended Preparation Instructions:
Use directly in your marinade, brine, sauce or drink.
Product Description
There are hundreds of different honeys throughout the world. Most of them are named for the flower from which they originate. Honey is used as a sweetener and flavoring agent. Our granulated honey consists of small, dry, rough cut pellets of honey. The size is perfect for hot and cold beverages. The granules are about the size of a pin head, making it an excellent way to offer a new style of serving honey for drinks.
Physical
Color: Light tan to cream.
Flavor: Typical of honey, sweet.
Size: Max 3% on a US #12 sieve.
Chemical
Moisture: N/A
Sulfites: N/A
Heat Level: N/A
Ingredient Statement:
Granulated Honey (refinery syrup, honey).
Allergen Statement
None.
Packaging & Storage
Shelf Life: Min 12 months (under optimum storage conditions).
Packaging: Plastic jar.
Storage Conditions: Store in a dry, cool place.
About Nutritional Information
Chieftain Wild Rice Company gathers nutritional information from highly regarded sources. Nutritional analysis can vary due to growing conditions, frequency of testing, and other factors.
Nutrition Facts

Serving Size 100g

Amount Per Serving

Calories 393

Calories from Fat 0

 

% Daily Value *

Total Fat 0g

0%

Saturated Fat0 g

0%

Trans Fat 0g

 

Cholesterol 0g

0%

Sodium 17mg

1%

Total Carbohydrate 98g

33%

Dietary Fiber 0g

0%

Sugars 86g

 

Protein 0g
 

Vitamin A

0%

Vitamin C

0%

Calcium

7%

Iron

0%

* The Percent Daily Values are based on a 2,000 calorie diet.