HERBES DE PROVENCE - Kosher/Gluten Free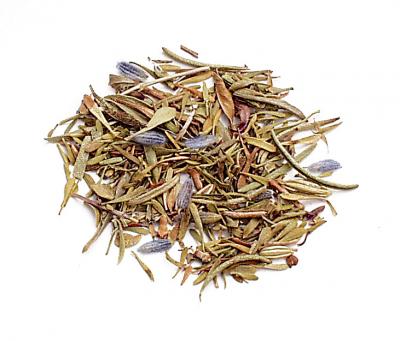 ---
HERBES DE PROVENCE - Kosher/Gluten Free
HERBSDP-28
Description:

HERBS DE PROVENCE is a long-established blend of aromatic herbs that flourish in Southern France during the hot summer months. Used to season meats, vegetables and breads, our HERBS DE PROVENCE contains: savory, fennel, thyme, rosemary and lavender. A flavorful addition to dishes of all cuisines, HERBS DE PROVENCE can be used in a variety of ways. Mix with salt, pepper and other spices as a meat rub or mix with oil and garlic to make a marinade or dressing. Rub on shrimp and salmon with olive oil before grilling for a savory dish. Toss with chunks of potatoes and olive oil and roast for a tasty side dish option.
Ingredient Statement:
Spices, Canola Oil.
Brush vegetables with oil and sprinkle with HERBS DE PROVENCE then grill for a refreshing summer meal. Use as a handy spice for Kabobs before roasting, use to season salads, sauces, cheeses, soups and stews. Mix up an herb butter using HERBS DE PROVENCE, salt and garlic. Delicious as a meat rub.
Recommended Preparation Instructions:
Use as you would any dried herb. Add 1 to 2 teaspoons, whole or crushed, to your recipes as desired.
Product Description
Herbes de Provence is a mixture of summer herbs that are common to southern France. The hot temperature of southern France in late summer is ideal for growing these herbs that include Thyme, Blue Lavender Flowers, Rosemary, Majoram, Fennel Seed, Savory, & Basil.
Physical
Color: Mix of light green, brown, purple.
Flavor: Typical of herbs.
Size: Typical of dried herbs.
Chemical
Moisture: N/A
Sulfites: N/A
Heat Level: N/A
Ingredient Statement:
Spices, Canola Oil.
Allergen Statement
None.
Packaging & Storage
Shelf Life: Min 12 months (under optimum storage conditions).
Packaging: Plastic jar.
Storage Conditions: Store in a dry, cool place.
About Nutritional Information
Chieftain Wild Rice Company gathers nutritional information from highly regarded sources. Nutritional analysis can vary due to growing conditions, frequency of testing, and other factors.
Nutrition Facts

Serving Size 1/4 teaspoon (.5g)

Amount Per Serving

Calories 0

Calories from Fat 0

 

% Daily Value *

Total Fat 0g

0%

Saturated Fat 0g

0%

Trans Fat 0g

 

Cholesterol  0g

0%

Sodium 0mg

0%

Total Carbohydrate 0g

0%

Dietary Fiber 0g

0%

Sugars0 g

 

Protein 0g
 

Vitamin A

0%

Vitamin C

0%

Calcium

0%

Iron

1%

* The Percent Daily Values are based on a 2,000 calorie diet.