KAMUT (OG) - Kosher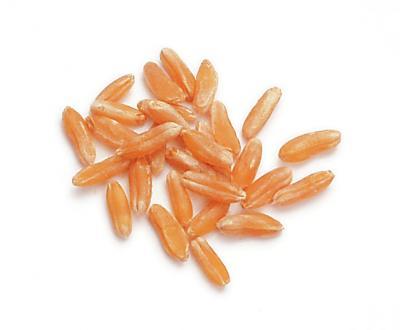 ---
KAMUT (OG) - Kosher
KAM-10
Description:

This ancient relative of modern durum wheat, Kamut is a non-hybrid grain; two to three times the size of common wheat. The history is interesting: in 1949 a U.S. airman acquired 36 kernels, from a friend who claimed to have taken them from a box in a tomb near Dashare, Egypt. He sent them to his family in Montana where they grew the grain but found there was no market for it. After a long period of oblivion, one jar of the grain was rediscovered thus leading to the value of this unique grain. Given the trade name "Kamut" which is an ancient Egyptian word for wheat, Kamut is nutritionally superior to wheat and can be substituted for common wheat with great success. Kamut has a rich, buttery flavor, and firm chewy texture and is easily digested. Kamut is a nice substitute for Rice or Wheat Berries in casseroles and stuffing. Described as a "high energy grain," Kamut is high in protein, fiber, and minerals. Kamut is an heirloom food.
Ingredient Statement:
Kamut Brand Wheat. (Contains Wheat, Gluten)
Kamut can be found in cereals, breads, cookies, snacks, waffles, pancakes, bread mixes, baked goods, and prepared and frozen meals. Due to the sweetness of this grain, some as "the sweet wheat" refers it to. Kamut can be used in chili, macaroni and cheese, salads, seafood, pasta, breads, pizza, soups, sauces and pilafs.
Recommended Preparation Instructions:
Soak overnight. Cover with fresh water and simmer 1 cup of Kamut and 2 cups of water for 50-60 minutes until tender. If the Kamut has not been soaked, simmer for 90 minutes. 
One cup dry yields 2½ cups cooked.
Product Description
Kamut a non hybrid grain, a distant cousin of Durum Wheat. It looks like a large, pale grain of wheat. Kamut is less chewy than Wheat Berries which makes it a much better sub for grains like rice in casseroles, and stuffings.
Physical
Color: Beige to light tan.
Flavor: Typical of wheat, buttery.
Size: Approximately ¼ inch in length, rice shaped grain.
Chemical
Moisture: N/A
Sulfites: Negative
Heat Level: N/A
Ingredient Statement:
Kamut Brand Wheat.
Allergen Statement
Contains Wheat, Gluten.
Packaging & Storage
Shelf Life: Min 12 months (under optimum storage conditions).
Packaging: Poly bag in box.
Storage Conditions: Store in a dry, cool place.
About Nutritional Information
Chieftain Wild Rice Company gathers nutritional information from highly regarded sources. Nutritional analysis can vary due to growing conditions, frequency of testing, and other factors.
Nutrition Facts

Serving Size    100g (uncooked)

Amount Per Serving

Calories 337

Calories from Fat 18

 

% Daily Value *

Total Fat2 g

3%

Saturated Fat 0g

0%

Trans Fat 0g

 

Cholesterol0 g

0%

Sodium 6mg

0%

Total Carbohydrate70 g

23%

Dietary Fiber 9g

36%

Sugars 8g

 

Protein14 g
 

Vitamin A

0%

Vitamin C

0%

Calcium

2%

Iron

22%

* The Percent Daily Values are based on a 2,000 calorie diet.