SAFFRON RICE - Kosher/Gluten Free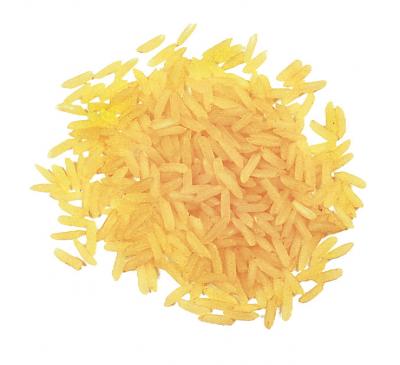 ---
SAFFRON RICE - Kosher/Gluten Free
SAF-10
Description:

This Blend contains a mix of Paprika, Ground Turmeric, and Saffron Powder. This saffron flavored rice takes white rice from plain to exquisite! Flavored with Saffron Powder, which is derived from the dried stigmas of the purple saffron crocus, this rice is sure to make a striking appearance on your menu.
Ingredient Statement:
White Rice, Paprika, Turmeric, Saffron Powder.
Product Description
This Blend contains a mix of Paprika, Ground Tumeric, and Saffron Powder.
Physical
Color: Light to dark yellow.
Flavor: Typical of rice, sharp undertones.
Size: Approximately ¼ to 5/16 inch in length, rice shaped grain.
Chemical
Moisture: N/A
Sulfites: Negative
Heat Level: N/A
Ingredient Statement:
White Rice, Paprika, Turmeric, Saffron Powder.
Allergen Statement
None.
Packaging & Storage
Shelf Life: Min. 12 months (under optimum storage conditions).
Packaging: Poly bag in box.
Storage Conditions: Store in a dry, cool place.
Microbiological
SPC: <500,000 cfu / g
COLIFORM: <1000 cfu / g
YEAST: <1000 cfu / g
MOLD: <1000 cfu / g
Due to the nature of raw, agricultural products, the microbiological data provided should be considered as guidelines.
About Nutritional Information
Chieftain Wild Rice Company gathers nutritional information from highly regarded sources. Nutritional analysis can vary due to growing conditions, frequency of testing, and other factors.
Nutrition Facts

Serving Size 100g (uncooked)

Amount Per Serving

Calories 365

Calories from Fat 9

% Daily Value *

Total Fat 1g

2%

Saturated Fat0 g

0%

Trans Fat 0g

Cholesterol 0g

0%

Sodium6 mg

0%

Total Carbohydrate 80g

27%

Dietary Fiber 1g

4%

Sugars0 g

Protein 7g

Vitamin A

3%

Vitamin C

0%

Calcium

3%

Iron

6%

* The Percent Daily Values are based on a 2,000 calorie diet.
Boil 1 3/4 cups water in a large pot. Add the rice to the boiling water, return to a boil for 2 minutes, then cover and simmer on low heat. Simmer the rice for 18 minutes. Let stand 5 minutes then fluff with a fork. One cup dry yields 3 cups cooked. Mix with vegetables for a colorful rice pilaf. Sautee with jumbo shrimp and herbs or add peas, bacon and chicken to cooked rice for a simple meal.
Recommended Preparation Instructions:
Place 1 cup of rice and 1-3/4 cups of water in a pot with a lid. Bring to a boil, cover, reduce heat and simmer for 20 minutes. Remove from heat and let stand 5 min. Season as desired and fluff with fork before serving.
One cup dry yields 2-1/2 to 3 cups cooked.