SEA SALT, LIME FRESCO - Gluten Free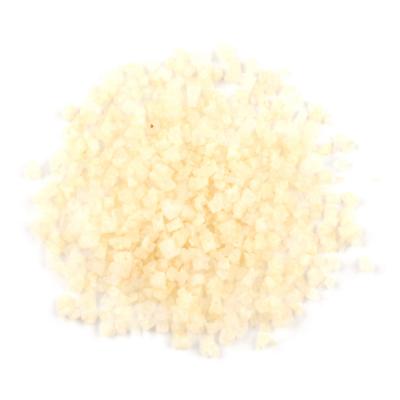 ---
SEA SALT, LIME FRESCO - Gluten Free
LIMEFRESALT-24
Description:

Lime Fresco Salt is a piquant blend of sea salt and lime. This enticing mixture enhances the flavor of fish and seafood. Easy to use, just sprinkle as needed! This spirited blend works well with mixed drinks like Margaritas and Bloody Mary's.
Ingredient Statement:
Sea Salt, Lime.
Sprinkle on fish and seafood before grilling. Add to meat marinades or meat rubs. Try Lime Fresco Salt on cut celery, cucumbers and tomatoes. Tasty on grilled vegetables or deviled eggs.
Recommended Preparation Instructions:
Ready to use, just add to recipe.
Product Description
A combination of hand harvested sea salt blended with all natural lime for a zesty zing.
Physical
Color: Off white.
Flavor: Typical of salt with taste of lime.
Size: 1-3 mm.
Chemical
Moisture: N/A
Sulfites: N/A
Heat Level: N/A
Ingredient Statement:
Sea Salt, Lime.
Allergen Statement
None.
Packaging & Storage
Shelf Life: Min 24 months (under optimum storage conditions).
Packaging: Plastic jar.
Storage Conditions: Store in a dry, cool place.
About Nutritional Information
Chieftain Wild Rice Company gathers nutritional information from highly regarded sources. Nutritional analysis can vary due to growing conditions, frequency of testing, and other factors.
Nutrition Facts

Serving Size 100g

Amount Per Serving

Calories 0

Calories from Fat 0

 

% Daily Value *

Total Fat 0g

0%

Saturated Fat 0g

0%

Trans Fat 0g

 

Cholesterol 0g

0%

Sodium 390295mg

1637%

Total Carbohydrate 0g

0%

Dietary Fiber 0g

0%

Sugars 0g

 

Protein 0g
 

Vitamin A

0%

Vitamin C

0%

Calcium

0%

Iron

0%

* The Percent Daily Values are based on a 2,000 calorie diet.