COUSCOUS, FREGOLA SARDA, MEDIUM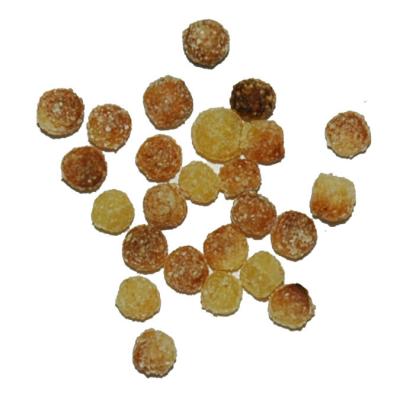 ---
COUSCOUS, FREGOLA SARDA, MEDIUM
FREGOLAMED-5
Description:

Fregola Sarda (pronounced FREG-o-la) is often referred to as Sardinian Couscous. Fregare means "to rub" and this Fregola Sarda is made by rubbing coarse semolina wheat and small amounts of water together to create irregularly shaped nuggets that are dried. These light golden to tan nuggets are then toasted to a deeper shade of golden brown giving it a delicious roasted nutty flavor. Dense and chewy, this pasta is wonderful as a side dish, in salads or cooked like risotto. Preparation is easy, cook as you would any pasta to desired tenderness, then drain and fluff with fork. Ideal for soups since it can absorb a large amount of water without getting mushy. Fregola Sarda has a special kind of dietary fiber called resistant starch. This starch helps maintain blood sugar and improves digestion. This product contains Wheat. Available in three different sizes, small, medium and large.
Ingredient Statement:
Durum Wheat Semolina. (Contains Wheat, Gluten)
Use in Tabbouleh instead of bulgur wheat; serve with meat or seafood with all of your favorite sauces. Prepare and toss with butter, parsley and chives. Combine Fregola Sarda with sautéed sausage, herbs, tomatoes and cheese, layer in baking dish and sprinkle with breadcrumbs for a savory meal. Use as a replacement for Israeli Couscous. Great as a risotto substitute, salad, or vegetarian entree. Delicious served under meat or in vegetable stew.
Recommended Preparation Instructions:
Rinse in cold water. Boil in salted water or stock for about 15 minutes or until al dente.
One cup dry yields 2 cups cooked.
Product Description
Fregola Sarda is a pasta created by rubbing wet semolina wheat into little balls, then drying and toasting. Each little ball is bigger than a grain of Moroccan couscous. This specialty from Sardinia has a toasty, rustic flavor. It is a delicious pasta - excellent as a side dish served with meat or seafood, as an entree served with tomato sauce, or as an ingredient in soups.
Physical
Color: Various shades of tan, medium brown and dark brown.
Flavor: Typical of couscous.
Size: Approximately 3/16 inch in diameter.
Chemical
Moisture: N/A
Sulfites: N/A
Heat Level: N/A
Ingredient Statement:
Durum Wheat Semolina.
Allergen Statement
Contains Wheat, Gluten.
Packaging & Storage
Shelf Life: Min. 12 months (under optimum storage conditions).
Packaging: Poly bag in box.
Storage Conditions: Store in a dry, cool place.
About Nutritional Information
Chieftain Wild Rice Company gathers nutritional information from highly regarded sources. Nutritional analysis can vary due to growing conditions, frequency of testing, and other factors.
Nutrition Facts

Serving Size 100g (uncooked)

Amount Per Serving

Calories 342

Calories from Fat 9

 

% Daily Value *

Total Fat 1g

2%

Saturated Fat 0g

0%

Trans Fat 0g

 
Cholesterol 0g

0%

Sodium 0mg

0%

Total Carbohydrate 74g

25%

Dietary Fiber 4g

16%

Sugars 4g

 
Protein 11g
 

Vitamin A

0%

Vitamin C

0%

Calcium

0%

Iron

6%

* The Percent Daily Values are based on a 2,000 calorie diet.