CHIPOTLE, MORITA - Kosher/Gluten Free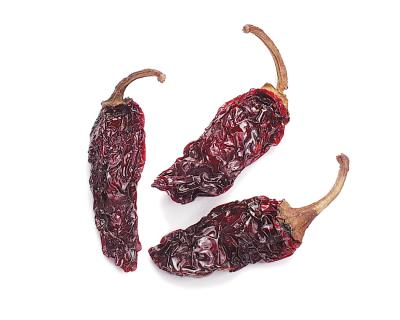 ---
CHIPOTLE, MORITA - Kosher/Gluten Free
CHIPMOR-1
Description:

Chipotle (chee-POT-lay) Morita is a medium hot pepper with a rich smoky flavor. Chipotle means "smoked chile", Chipotle is the familiar Jalapeno pepper that is smoked and then dried. The main difference between the Brown Chipotle and the Morita Chipotle is the degree of ripeness when smoked. The Brown Chipotle is the green Jalapeno and the Morita is the fully ripened Jalapeno. Fully ripening the Jalapeno gives these Morita chiles a unique, medium hot, smoky flavor which is popular in many southwestern dishes. About 2 to 4 inches in length, about 1 inch wide, these Chipotles have a deep reddish brown color. Consider the Chipotle in the medium-high range for heat.
Ingredient Statement:
Dried Morita Chipotle Chiles.
The options for using Chipotles are endless. With their smoky rich flavor, Chipotles can be used in recipes like smoky Chipotle Salmon, smoky Chipotle salsa and even sweet Chipotle Almond mix. Use Chipotle anywhere you need chile flavor with medium heat.
Recommended Preparation Instructions:
Rinse product first with warm water. soak in hot water for 10 minutes to rehydrate or add directly to recipe that will cook at least 10 minutes. Once rehydrated, dice or puree and add to a recipe.
Product Description
Chipotle chiles are made from the familiar jalapeno pepper. Jalapeno chiles are smoked during the drying process. There are many different beliefs regarding the difference between brown and morita chipotles. One understanding is that the brown chipotles are the green jalapenos and the moritas are the red, fully mature chipotles. Fully ripening gives these morita chiles a unique, medium hot, smoky flavor which is popular in many southwestern dishes. The word chipotle translates to smoked chile. Consider the chipotle a 6.5 on a scale of 1-10 (10 being the hottest).
Physical
Color: Reddish orange to reddish brown.
Flavor: Pungent chile flavor, sweet, woody, earthy, heat.
Size: Approximately 1-4 inches in length, ¼-1 inch in width.
Chemical
Moisture: <20%
Sulfites: Negative
Heat Level: Approx. 7,000-25,000 Scoville Heat Units
Ingredient Statement:
Chipotle Chiles.
Allergen Statement
None.
Packaging & Storage
Shelf Life:  Min 12 months (under optimum storage conditions).
Packaging:  Bag in box, plastic bag or to customer specifications.
Storage Conditions:  Store in a dry, cool place.
About Nutritional Information
Chieftain Wild Rice Company gathers nutritional information from highly regarded sources.  Nutritional analysis can vary due to growing conditions, frequency of testing, and other factors.
Nutrition Facts

Serving Size 1/2 cup cooked - 10g




Number of Servings

Amount Per Serving

Calories 30

Calories from Fat 10

 

% Daily Value *

Total Fat 1g

2%

Saturated Fat 0g

0%

Trans Fat 0g

 
Cholesterol 0g

0%

Sodium 10mg

0%

Total Carbohydrate 7g

2%

Dietary Fiber 3g

12%

Sugars 4g

 
Protein 1g
 

Vitamin A

53%

Vitamin C

5%

Calcium

0%

Iron

3%

* The Percent Daily Values are based on a 2,000 calorie diet.