OAT GROATS, STEEL-CUT - Kosher/Gluten Free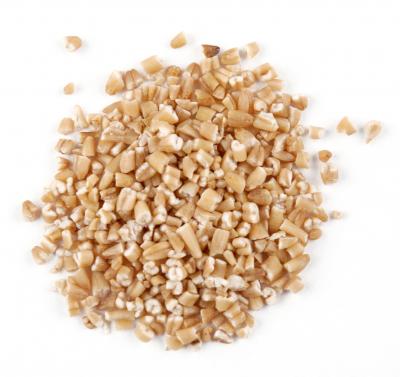 ---
OAT GROATS, STEEL-CUT - Kosher/Gluten Free
OAT-10
Description:

Steel-cut Oats are whole grain groats which have been cut into two or three pieces making them less processed than rolled oats. Steel-cut Oats are also known as Course-cut, Pinhead, Scotch or Irish Oats. Golden in color and similar in size to small rice pieces, Steel Cut Oats are nutritionally high in fiber with an earthy, nutty flavor. Because they are less processed Steel-cut Oats take longer to cook than rolled oats.
Ingredient Statement:
Oat Groats.
Steel-cut Oats are well known as a breakfast cereal but can be a healthy and delicious ingredient in meat and pasta dishes, pilafs, salads as well as breads and muffins.
Recommended Preparation Instructions:
Bring 4 cups of water to a boil and slowly stir in the oats. Heat until the oats begin to thicken, about 4-6 minutes. Cover, reduce heat and simmer for about 1/2 hour.
Product Description
Steel Cut Oats, also known as Coarse Cut Oats, Pinhead Oats, Scotch Oats or Irish Oats, are golden in color and resemble small rice pieces. They are the inner most part of the oat kernel. Steel Cut Oats are more natural than the common rolled oats because they are less processed. They are also nuttier and chewier. Steel Cut Oats take longer to cook than rolled oats (pre-processed).
Physical
Color: Cream to tan in color.
Flavor: Mild oat flavor.
Size: Minimum 75% on a US #12 sieve.
Chemical
Moisture: <15%
Sulfites: Negative
Heat Level: N/A
Ingredient Statement:
Oat Groats.
Allergen Statement
None.
Packaging & Storage
Shelf Life: Min 12 months (under optimum storage conditions).
Packaging: Poly bag in box.
Storage Conditions: Store in a dry, cool place.
About Nutritional Information
Chieftain Wild Rice Company gathers nutritional information from highly regarded sources. Nutritional analysis can vary due to growing conditions, frequency of testing, and other factors.
Nutrition Facts

Serving Size 100g (uncooked)

Amount Per Serving

Calories 389

Calories from Fat 62.1

 

% Daily Value *

Total Fat 7g

11%

Saturated Fat 1g

6%

Trans Fat 0g

 
Cholesterol 0g

0%

Sodium 2mg

0%

Total Carbohydrate 66g

21%

Dietary Fiber 10.6g

42%

Sugars 0g

 
Protein 16.9g
 

Vitamin A

0%

Vitamin C

0%

Calcium

5%

Iron

26%

* The Percent Daily Values are based on a 2,000 calorie diet.