SOBA NOODLES, CHUKA (RAMEN)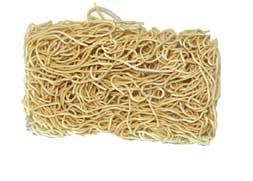 ---
SOBA NOODLES, CHUKA (RAMEN)
RAMEN-4.5
Description:

Chuka Soba Noodles are long dried Japanese noodles made from wheat flour, salt and water. Mild flavored and fine textured, Chuka Soba Noodles are packaged in a brick form with a tangled intertwined mesh of noodles similar in looks to Ramen Noodles. These noodles may be substituted for Ramen Noodles although they are lower in fat since they are not fried in oil as Ramen Noodles are before they are dried.
Ingredient Statement:
Wheat Flour, Salt, Yellow #5. (Contains Wheat, Gluten)
Product Description
Soba Noodles are made from buckwheat flour. They are thin noodles used in traditional Japanese cuisine, served either cold with a sauce or in a broth as a noodle soup. Most thin noodles are referred to as soba noodles and thick one are referred to as udon noodles.
Physical
Color: Tan.
Flavor: Typical of pasta.
Size: Various, curly shape.
Chemical
Moisture: N/A
Sulfites: N/A
Heat Level: N/A
Ingredient Statement:
Wheat Flour, Salt, Yellow #5.
Allergen Statement
Contains Wheat, Gluten.
Packaging & Storage
Shelf Life: Min. 12 months (under optimum storage conditions).
Packaging: Bag in box.
Storage Conditions: Store in a dry, cool place.
Microbiological
SPC: <100,000 cfu / g
COLIFORM: <1000 cfu / g
YEAST: <1000 cfu / g
MOLD: <1000 cfu / g
Due to the nature of raw, agricultural products, the microbiological data provided should be considered as guidelines.
About Nutritional Information
Chieftain Wild Rice Company gathers nutritional information from highly regarded sources. Nutritional analysis can vary due to growing conditions, frequency of testing, and other factors.
Nutrition Facts

Serving Size 85g (uncooked)

Amount Per Serving

Calories 300

Calories from Fat 0

% Daily Value *

Total Fat 0g

0%

Saturated Fat 0g

0%

Trans Fat 0g

Cholesterol 0g

0%

Sodium 0mg

0%

Total Carbohydrate 65g

22%

Dietary Fiber 0g

0%

Sugars 0g

Protein12

Vitamin A

0%

Vitamin C

0%

Calcium

3%

Iron

39%

* The Percent Daily Values are based on a 2,000 calorie diet.
Chuka Soba Noodles quick cook time make them a versatile ingredient in soups, stir-fries and main dishes. Perfect for serving with Chow Mein or in Oriental Chicken Salad.
Recommended Preparation Instructions:
To prepare noodles, scatter into plenty of boiling water and cook for about 4-5 minutes until noodles reach desired tenderness. Strain noodles into a colander and rinse 2-3 times under cold running water. Drain well.