UDONG (UDON) NOODLES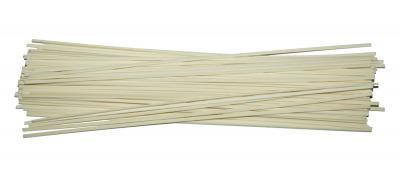 ---
UDONG (UDON) NOODLES
UDON-3
Description:

Udong (Udon) Noodles, pronounced oo-DOAN, are a slippery Japanese noodle that is made of wheat flour, salt and water. Extremely popular in Japanese cuisine, they are commonly served in a mild broth topped with tempura, shrimp, and chicken. The type of broth it is served with varies by region, lighter broths are used in western Japan and richer, dark brown broths reflect eastern Japan. Chieftains Udong (Udon) Noodles are from Korea and are a dry product. Udong (Udon) Noodles may vary in thickness and shape, however their taste is similar.
Ingredient Statement:
Wheat Flour, Salt, Water. (Contains Wheat, Gluten)
Product Description
Udon is a thick noodle made from wheat. It is usually served in a noodle soup with a mild broth. Common toppings are tempura, shrimp and abura age, a deep fried tofu packet seasoned with sugar, mirin and soy sauce. The type of broth it is served in varies from region to region in Japan. A dark brown broth reflects eastern Japan where as a light brown broth made from light soy sauce is used in the west.
Physical
Color: Ivory.
Flavor: Typical of pasta.
Size: Approximately 8½ inch in length.
Chemical
Moisture: N/A
Sulfites: N/A
Heat Level: N/A
Ingredient Statement:
Wheat Flour, Salt, Water.
Allergen Statement
Contains Wheat, Gluten.
Packaging & Storage
Shelf Life: Min. 12 months (under optimum storage conditions).
Packaging: Bag in box.
Storage Conditions: Store in a dry, cool place.
Microbiological
SPC: <100,000 cfu / g
COLIFORM: <1000 cfu / g
YEAST: <1000 cfu / g
MOLD: <1000 cfu / g
Due to the nature of raw, agricultural products, the microbiological data provided should be considered as guidelines.
About Nutritional Information
Chieftain Wild Rice Company gathers nutritional information from highly regarded sources. Nutritional analysis can vary due to growing conditions, frequency of testing, and other factors.
Nutrition Facts

Serving Size 56g (uncooked)

Amount Per Serving

Calories 300

Calories from Fat 0

% Daily Value *

Total Fat 0g

0%

Saturated Fat 0g

0%

Trans Fat0 g

Cholesterol 0g

0%

Sodium 570mg

24%

Total Carbohydrate 44g

15%

Dietary Fiber 2g

8%

Sugars 2g

Protein 5g

Vitamin A

0%

Vitamin C

0%

Calcium

0%

Iron

4%

* The Percent Daily Values are based on a 2,000 calorie diet.
Udong (Udon) Noodles may be used in soups with vegetables, meats and soy sauce. Garnish to taste. They cook quickly in about 3-5 minutes making them an easy-to-prepare dish. Serve cold or warm. Toss with herbs and butter or add your own savory sauce. Serve warm in flavored broth with shrimp, spinach, mushrooms, snow peas and cabbage.
Recommended Preparation Instructions:
Add to boiling water and boil for 3-5 minutes, or until soft. Rinse and drain in cold water to prevent sticking.