PAPAYA, SPEARS, SLICED NATURAL - Kosher/Gluten Free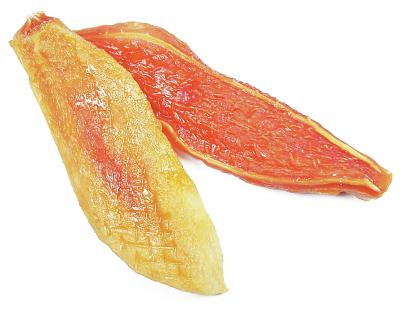 ---
PAPAYA, SPEARS, SLICED NATURAL - Kosher/Gluten Free
PAPSPEAR-5
Description:

The Papaya tree is a horticultural marvel, growing from seed to a 20-foot, fruit-bearing tree in less than 18 months. Cultivated in semitropical zones around the world, Papaya can range in size from 1 to 20 pounds. The flesh of the Papaya is similar to a melon but with a deeper flavor and yellow-orange color, it is also a good source of Vitamin C. The silvery-black, crunchy Papaya seeds are edible but rarely used. Papayas grown in the United States come from California and Florida; however, the majority of Papayas come from Hawaii. Papayas, when ripe have an exotic sweet-tart flavor. Dried Papaya allows the versatility of year round use since Papaya normally has a short season of availability. Dry Papaya can be used straight from the bag or re-hydrated.
Ingredient Statement:
Papayas.
Our Papaya is mechanically dried and contains no sulfites.
Papayas bring an exotic touch to savory dishes and desserts. Pureed Papaya added to a marinade gives it a tropical flavor. Diced Dried Papaya can be used in salsa, smoked turkey salad, chili, bread, muffins and chutney. Papaya can also be cooked into meat dishes or softened and tossed with cooked couscous.
Recommended Preparation Instructions:
There is no preparation needed for dried fruit. If used in baking, you may want to rehydrate. To rehydrate dried fruit, pour boiling water over the fruit and let sit covered for 5-10 minutes. Drain well before using.
Product Description
Papayas are sweet and refreshing and also a great source of Vitamin C. Papayas are a cultivated fruit similar to a melon with a deeper flavor and yellow-orange flesh. There are many varieties of Papayas and they are grown in many tropical countries. The exact origin of Papaya is unknown but is believed to be native to the Americas. Papayas are rich with antioxidants and are also great for your cardiovascular system. No sulfites. Our Papaya Spears are mechanically dried.
Physical
Color: Yellowish-orange.
Flavor: Typical of Papayas
Size: Approximately 4½ - 7 inches in length.
Chemical
Moisture: Maximum 15%
Sulfites: N/A
Heat Level: N/A
Ingredient Statement:
Papayas.
Allergen Statement
None.
Packaging & Storage
Shelf Life: Min 12 months (under optimum storage conditions).
Packaging: Poly bag in box.
Storage Conditions: Store in a dry, cool place.
About Nutritional Information
Chieftain Wild Rice Company gathers nutritional information from highly regarded sources. Nutritional analysis can vary due to growing conditions, frequency of testing, and other factors.
Nutrition Facts

Serving Size 1 spear  (40g)

Amount Per Serving

Calories 150

Calories from Fat 0

 

% Daily Value *

Total Fat 0g

0%

Saturated Fat 0g

0%

Trans Fat 0g

 

Cholesterol 0g

0%

Sodium15 mg

1%

Total Carbohydrate 37g

12%

Dietary Fiber 0g

0%

Sugars17 g

 

Protein 0g
 

Vitamin A

0%

Vitamin C

6%

Calcium

4%

Iron

2%

* The Percent Daily Values are based on a 2,000 calorie diet.