PEARS - Kosher/Gluten Free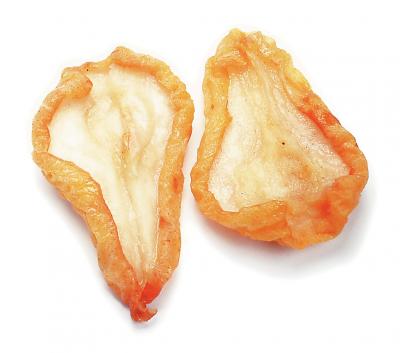 ---
PEARS - Kosher/Gluten Free
PEARS-5
Description:

Pears are grown in moderate climates around the world. Pears are members of the rose family and related to the apple and the quince. Pears generally have a large round bottom that tapers towards the top. Depending on the variety, of which there are thousands, their paper-thin skins can either be yellow, green, brown, red or a combination of these colors. Sweet, with a soft, mild yet somewhat grainy texture, Pears have a white to cream-colored flesh. Pears are a healthy source of phosphorus and Vitamin A.
Ingredient Statement:
Pear, Sulfur Dioxide as a preservative.
Dried Pears are mechanically dried.
Dried Pears with their mild flavor are an exceptional compliment to cheesecake, pies, pudding, breads, salads, salsas, and sauces. Toss with shrimp and sugar peas for a tasty stir-fry! Pears can also be used in jellies and jams, usually in combination with other fruits or berries.
Recommended Preparation Instructions:
There is no preparation needed for dried fruit. If used in baking, you may want to rehydrate. To rehydrate dried fruit, pour boiling water over the fruit and let sit covered for 5 to 10 minutes. Drain well before using.
Product Description
Pears come in a wide array of varieties; there are over 5000 known varieties of the Pear. Pears are grown in temperate climates around the world. Pears contain phosphorus and Vitamin A. Dried fruits are very versatile. Use in baked goods, salads, sauces, trail mixes, hot cereals, muffins, scones, fruit cakes and for homemade ice cream. Dried fruits may be eaten right out of the bag as a convenient and healthy snack. Mix with granola and almonds or in a trail mix. Contains sulfites. Dried Pears are mechanically dried.
Color: Golden yellow.
Flavor: Typical of pears.
Size: Approximately 2¼ to 3 inches in length.
Chemical
Moisture: 30%
Sulfites: 1000-3000ppm
Heat Level: N/A
Ingredient Statement:
Pear, Sulfur Dioxide as a preservative.
Allergen Statement
None.
Packaging & Storage
Shelf Life: Min 12 months (under optimum storage conditions).
Packaging: Poly bag in box.
Storage Conditions: Store in a dry, cool place.
About Nutritional Information
Chieftain Wild Rice Company gathers nutritional information from highly regarded sources. Nutritional analysis can vary due to growing conditions, frequency of testing, and other factors.
Nutrition Facts

Serving Size 40g

Amount Per Serving

Calories 110

Calories from Fat 0

 

% Daily Value *

Total Fat 0g

0%

Saturated Fat 0g

0%

Trans Fat 0g

 
Cholesterol 0g

0%

Sodium 0mg

0%

Total Carbohydrate 28g

9%

Dietary Fiber 3g

12%

Sugars 25g

 
Protein 1g
 

Vitamin A

0%

Vitamin C

5%

Calcium

1%

Iron

5%

* The Percent Daily Values are based on a 2,000 calorie diet.