LONG GRAIN BROWN RICE, PECAN STYLE - Kosher/Gluten Free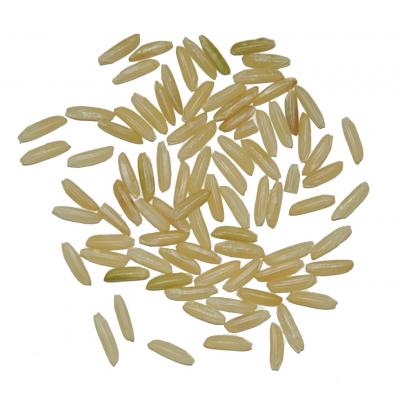 ---
LONG GRAIN BROWN RICE, PECAN STYLE - Kosher/Gluten Free
WILDPEC-10
Description:

Long Grain Brown Rice, Pecan Style is a hybrid that hails from Louisiana. Long Grain Brown Rice, Pecan Style  is chewy and fragrant with a nutty-buttery flavor. When Pecan Style Rice is cooked it has a distinctive aroma similar to popcorn. A compliment to any Cajun style dish, especially gumbo, it can be used with wild game and barbecued foods.
Ingredient Statement:
Rice.
A healthy ingredient for spiced mushroom and Pecan Rice timbales, Wild Pecan Rice salad, Pecan Rice soup, cornbread stuffing, stir-fry, curries or cook in seafood or chicken stock instead of water, and stir in mussels, shrimp or other seafood.
Recommended Preparation Instructions:
Combine 1 cup rice with 2 cups water, bring to a boil over high heat. Cover, reduce heat to low, and simmer for 30-40 minutes until grains are tender and hulls have split open. Fluff with fork before serving.
One cup dry yields 3 cups cooked.
Product Description
Hailing from Louisiana, this aromatic rice is a hybrid with a rich, nutty flavor and a cooked fragrance akin to popcorn. Rice is the most important food staple in Asia. Serve Brown Rice with stir-fries, curries, sauces or replace other side dishes to improve the health benefits of any meal.
Physical
Color: Brown.
Flavor: Clean, slightly nutty.
Size: Approximately ¼ inch in length, long and slender.
Chemical
Moisture: N/A
Sulfites: Negative
Heat Level: N/A
Ingredient Statement:
Rice.
Allergen Statement
None.
Packaging & Storage
Shelf Life: Min. 12 months (under optimum storage conditions).
Packaging: Poly bag in box.
Storage Conditions: Store in a dry, cool place.
About Nutritional Information
Chieftain Wild Rice Company gathers nutritional information from highly regarded sources. Nutritional analysis can vary due to growing conditions, frequency of testing, and other factors.
Nutrition Facts

Serving Size 100g (uncooked)

Amount Per Serving

Calories 362

Calories from Fat 27

 

% Daily Value *

Total Fat 3g

5%

Saturated Fat 0g

0%

Trans Fat 0g

 

Cholesterol 0g

0%

Sodium4 mg

0%

Total Carbohydrate 76g

25%

Dietary Fiber 3g

12%

Sugars 0g

 

Protein 8g
 

Vitamin A

0%

Vitamin C

0%

Calcium

3%

Iron

11%

* The Percent Daily Values are based on a 2,000 calorie diet.