PEPPERMINT CRUSHED - Kosher/Gluten Free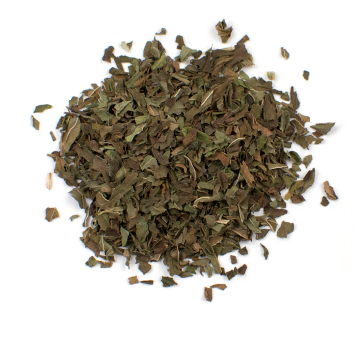 ---
PEPPERMINT CRUSHED - Kosher/Gluten Free
MINT-5
Description:

Peppermint is a natural hybrid cross between watermint and spearmint. Known for its cool and refreshing attributes, peppermint has been used as both a traditional medicine and culinary enhancer for centuries. Modern day uses include everything from breath mints and toothpaste to meat rubs and marinades.
The ingredient responsible for the cooling effect that peppermint has on our palette is menthol.  This cooling burst makes peppermint a fragrant choice for chefs. Crushed peppermint can be added to oven roasted vegetables, grain salads, vinaigrettes, beverages, ice cream, yogurt, salads and cold soups!
Ingredient Statement:
Peppermint.
Product Description
Peppermint can cool and refresh the driest mouth on the hottest day. A natural hybrid between the watermint and spearmint, peppermint contains menthol in its oil, the ingredient responsible for producing that fresh, crisp taste flavor in toothpastes and breath mints.
Physical
Color: Crushed, green peppermint leaves.
Flavor: Mint.
Chemical
Moisture: 15%
Sulfites: N/A
Heat Level: N/A
Ingredient Statement:
Peppermint.
Allergen Statement:
Contains no allergens.
Packaging & Storage:
Shelf Life: 12 months (under optimum storage conditions).
Packaging: Plastic jar.
Storage Conditions: Storage environment should be cool and dry (less than 70% RH) and free from undesirable odors.
About Nutritional Information
Chieftain Wild Rice Company gathers nutritional information from highly regarded sources.  Nutritional analysis can vary due to growing conditions, frequency of testing, and other factors.
Nutrition Facts

Serving Size about 1/4 teaspoon (.5g)

Amount Per Serving

Calories 0

Calories from Fat 0

 

% Daily Value *

Total Fat 0g

0%

Saturated Fat 0g

0%

Trans Fat 0g

 
Cholesterol 0g

0%

Sodium 0mg

0%

Total Carbohydrate 0g

0%

Dietary Fiber 0g

0%

Sugars 0g

 
Protein 0g
 

Vitamin A

0%

Vitamin C

0%

Calcium

0%

Iron

0%

* The Percent Daily Values are based on a 2,000 calorie diet.
Recommended Preparation Instructions:
No preparation necessary.
Peppermint has many common uses such as in mint jelly, ice cream and as an herbal tea. It is also delicious added to oven roasted new potatoes, candied carrots, grain salads like Tabbuleh and used as a meat rub on lamb and pork.