LENTILS, PETITE CRIMSON - Kosher/Gluten Free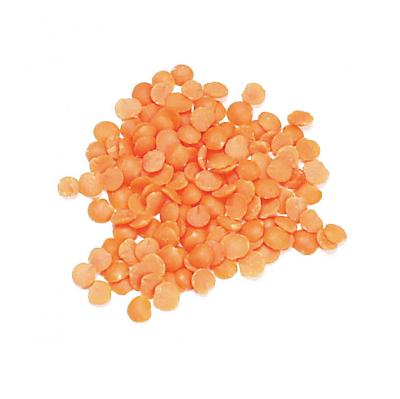 ---
LENTILS, PETITE CRIMSON - Kosher/Gluten Free
PCL-10
Description:

Petite Crimson Lentil is the tiny, lens shaped seed of a small shrub. Petite Crimson Lentils have their rusty brown skin removed to reveal their vibrant orange-red or crimson color. They have a mild, earthy flavor and soft texture. Petite Crimson Lentils are small, about ½ cm. wide and tend to break down during cooking, easily thickening stews and soups with their rich flavor. Since Petite Crimson Lentils are mild in flavor they do well with more assertive flavorings and are well suited for Eastern and Asian cuisines. Used in vegetarian cooking as a meat substitute, these tiny lentils are low in fat and high in protein and fiber. A staple food for many South Asian cultures, lentils have been eaten for over 8000 years and originated in Southwestern Asia along the Indus River. There is no need to soak lentils.
Ingredient Statement:
Crimson Lentils (may contain a trace percentage of cereal grains).
Quick cooking and versatile, Petite Crimson Lentils are an obvious choice for winter soups, salads, curries, pilaf, stuffing and stir-fry. Mix with breadcrumbs and use to stuff vegetables or blend with couscous and use as a bed for grilled seafood or poultry. Hearty in baked bean dishes and stews.
Recommended Preparation Instructions:
Lentils do not require soaking. Simmer 1 cup lentils with 4 cups water 12 minutes for salads, 15 to 20 minutes for main dishes. Skim the water while cooking.
One cup dry yields 2 cups cooked.
Product Description
Petite Crimson are 1/2 cm. wide with a mild, earthly flavor and soft texture. Crimson Lentil are crimson in color which is a deep orange - red. This tiny lens shaped pulse has traditionally been used as a meat substitute (a pulse is the dried seed of any legume, such as beans and peas). Lentils are the seed of a small shrub and are dried after harvesting.
Physical
Color: Crimson.
Flavor: Typical of lentils.
Size: Approximately 3-5 mm in diameter, typical lentil shape.
Chemical
Moisture: N/A
Sulfites: N/A
Heat Level: N/A
Ingredient Statement:
Crimson Lentils (may contain a trace percentage of cereal grains).
Allergen Statement
None.
Packaging & Storage
Shelf Life: Min 12 months (under optimum storage conditions).
Packaging: Poly bag in box.
Storage Conditions: Store in a dry, cool place.
About Nutritional Information
Chieftain Wild Rice Company gathers nutritional information from highly regarded sources. Nutritional analysis can vary due to growing conditions, frequency of testing, and other factors.
Nutrition Facts

Serving Size 35g (uncooked)

Amount Per Serving

Calories 120

Calories from Fat 0

 

% Daily Value *

Total Fat 0g

0%

Saturated Fat 0g

0%

Trans Fat 0g

 
Cholesterol 0g

0%

Sodium 0mg

0%

Total Carbohydrate 21g

7%

Dietary Fiber 11g

44%

Sugars 1g

 
Protein 9g
 

Vitamin A

0%

Vitamin C

2%

Calcium

2%

Iron

16%

* The Percent Daily Values are based on a 2,000 calorie diet.