PINTO BEANS - Kosher/Gluten Free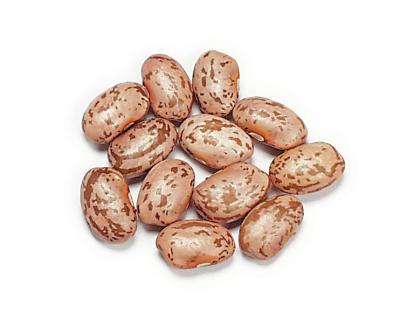 ---
PINTO BEANS - Kosher/Gluten Free
PINTO-10
Description:

The Pinto Bean is a member of the Kidney bean family. Popular across the Southern United States, it is the most common bean eaten in the U.S. Economically priced, they are high in nutrition and are easily integrated into most bean recipes. The Pinto bean is smooth, plump, and kidney-shaped, and about ½ inch long. Pinto beans have a pinkish-brown background strewn with splotches of brown with yellow at the keel. When cooked they turn a uniform pinkish-brown. Offering a pleasant full-bodied, earthy flavor, they have a mealy or powdery texture that blends well with other foods. Popular in Mexican and Southwest dishes, the Pinto bean can be used to make refried beans, chili, burritos, soups, baked beans, and can be substituted for recipes calling for Kidney or Red beans.
Ingredient Statement:
Pinto Beans.
Pinto beans are high in protein and can be easily combined with rice, used in baked beans, or substituted for Kidney beans in any recipe. With their mild flavor, Pinto Beans can be added to dishes that require spicier seasonings such as dried chile peppers. Most often found in refried beans and frijoles, Pinto beans can be used in dips, bean salsas, chili, stews and soups.
Substitutes: Chili, Rattlesnake, Anasazi, Borlotti, Cranberry, Adzuki, or Red Kidney beans.
Recommended Preparation Instructions:
Soak overnight. Rinse and place in a large pot and cover with fresh water. Bring to a boil for 3 minutes, reduce heat and simmer, covered, for 50 minutes until tender. This bean produces foam when boiling, so skim the water regularly.
One cup dry yields 2-2/3 cups cooked.
Product Description
The Pinto Bean is related to the Kidney Bean. This bean is 1/2 inch long; mottled pink and brown with yellow at the keel. The Pinto offers a full bodied, earthy flavor with a mealy texture. The Pinto Bean is used to make refried beans. The Pinto Bean originated in Central Mexico and is popular in Mexican and Tex-Mex cuisines.
Physical
Color: Mottled pink and brown with yellow at the keel.
Flavor: Earthy.
Size: Approximately ½ inch in length.
Chemical
Moisture: N/A
Sulfites: N/A
Heat Level: N/A
Ingredient Statement:
Pinto Beans.
Allergen Statement
None.
Packaging & Storage
Shelf Life: Min 12 months (under optimum storage
Packaging: Poly bag in box.
Storage Conditions: Store in a dry, cool place.
About Nutritional Information
Chieftain Wild Rice Company gathers nutritional information from highly regarded sources. Nutritional analysis can vary due to growing conditions, frequency of testing, and other factors.
Nutrition Facts

Serving Size 100g (uncooked)

Amount Per Serving

Calories 347

Calories from Fat 9

 

% Daily Value *

Total Fat 1g

2%

Saturated Fat 0g

%

Trans Fat 0g

 
Cholesterol 0g

0%

Sodium 12mg

1%

Total Carbohydrate 63g

21%

Dietary Fiber 16g

64%

Sugars 2 g

 
Protein 21g
 

Vitamin A

0%

Vitamin C

10%

Calcium

11%

Iron

28%

* The Percent Daily Values are based on a 2,000 calorie diet.