CORN WHITE GIANT FOR POSOLE - Kosher/Gluten Free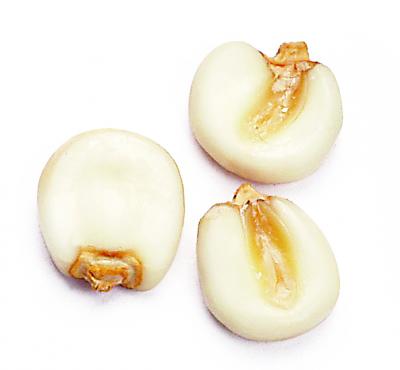 ---
CORN WHITE GIANT FOR POSOLE - Kosher/Gluten Free
WHPOS-8
Description:

Corn (Maize)is an honored crop that was considered "a gift of the gods" by the Indians of Mexico. The Pueblo Indians and their ancestors the Anasazi relied on corn, beans, squash and Chiles for sustenance. These early crops became firmly entrenched in the culture, forming the basis of New Mexican cuisine even before the Spanish arrived. Posole (po-So-lay) corn is prepared by soaking hard kernels of field corn in powdered lime and water. When the corn kernels have swollen, the liquid is allowed to evaporate and the kernels to dry. Giant White Posole has a creamy yellow-white color and when cooked a flavor that is intense and earthy with a soft yet firm texture. These hearty kernels are about 1 1/2 cm in width and length and add a unique corn flavor to stews, soups and casseroles. Posole is the main ingredient in a spicy corn stew that is known as a ceremonial dish for celebrating life's blessings. Posole is perfect in stew, gumbo and soups.
Ingredient Statement:
Dried Corn.
Thick stews, hearty soups and rich casseroles. Posole is delicious in all of these. Toss with herbs and butter and add to vegetable or pasta or salads. Posole can be baked, broiled and fried also. A version on mashed potatoes, using posole instead of potatoes is also great tasting.
Recommended Preparation Instructions:
Soak overnight in water.  Rinse corn, place in pan and cover with water.  Simmer 2-3 hours until corn 'bursts' open.  Add salt during last 15 minutes of cooking time.
One cup dry yields 2¾ .cups cooked.
Product Description
Giant White Corn for Posole has a slight yellowish white color and when cooked a soft, firm texture. Giant White Corn is a unique breed which adds uniqueness to any dish with its size. It was originally known as maize. Posole is known as a thick stew or hearty soup usually eaten as a main course
Physical
Color: Creamy to ivory white.
Flavor: Typical of corn.
Size: Approximately ½-5/8 inch width and length, corn shaped.
Chemical
Moisture: N/A
Sulfites: N/A
Heat Level: N/A
Ingredient Statement:
Dried Corn.
Allergen Statement
Contains no allergens.
Packaging & Storage
Shelf Life: Min 12 months (under optimum storage conditions).
Packaging: Poly bag in box.
Storage Conditions: Store in a dry, cool place.
About Nutritional Information
Chieftain Wild Rice Company gathers nutritional information from highly regarded sources.  Nutritional analysis can vary due to growing conditions, frequency of testing, and other factors.
Nutrition Facts

Serving Size 1/2 cup cooked - 1/4 cup (30g)

Amount Per Serving

Calories 110

Calories from Fat 15

 

% Daily Value *

Total Fat 1.5g

2%

Saturated Fat 0g

0%

Trans Fat 0g

 
Cholesterol 0g

0%

Sodium 10mg

0%

Total Carbohydrate 22g

7%

Dietary Fiber 0g

0%

Sugars 0g

 
Protein 3g
 

Vitamin A

0%

Vitamin C

0%

Calcium

0%

Iron

4%

* The Percent Daily Values are based on a 2,000 calorie diet.