RASPBERRY, FRUIT POWDER - Kosher/Gluten Free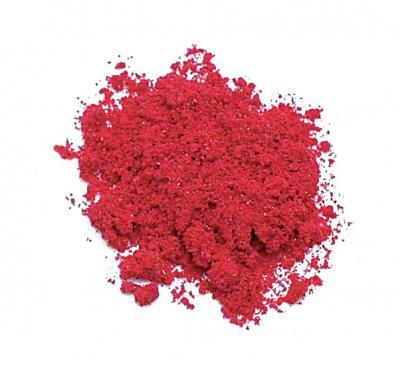 ---
RASPBERRY, FRUIT POWDER - Kosher/Gluten Free
FPRASPBERRY-14
Description:

Raspberry Fruit Powder is a freeze-dried raspberry that is ground into a powder. Freeze dried Raspberry contains no additives or preservatives. Can be mixed into flour for baking cakes, muffins or use in a glaze. Add to whipping cream, oatmeal, or blended drinks.
Ingredient Statement:
Raspberry.
A refreshing addition to blended drinks, fruit salads, sauces, glazes and baked goods.
Recommended Preparation Instructions:
Raspberry powder is ready to use. Just add to recipe as called for.
Product Description
This Raspberry Fruit Powder is made of freeze dried raspberries to lock in the fresh flavor, bright color and all the nutrition of ripe and plump red berries. Bright magenta to red in color, this flavorful powder cam be added to fruit jellies or glazes, cereals, yogurt, fillings, sauces, desserts and anywhere that could use a touch of fresh berry flavor.
Physical
Color: Deep Pink.
Flavor: Typical of raspberries.
Size: Minimum 90% through a U.S. #30 sieve.
Chemical
Moisture: N/A
Sulfites: Negative
Heat Level: N/A
Ingredient Statement:
Raspberry.
Allergen Statement
None.
Packaging & Storage
Shelf Life: Min 18 months (under optimum storage conditions).
Packaging: Plastic jar.
Storage Conditions: Store in a dry, cool place.
About Nutritional Information
Chieftain Wild Rice Company gathers nutritional information from highly regarded sources. Nutritional analysis can vary due to growing conditions, frequency of testing, and other factors.
Nutrition Facts

Serving Size 100g

Amount Per Serving

Calories 192

Calories from Fat 9

 

% Daily Value *

Total Fat 1g

2%

Saturated Fat 0g

0%

Trans Fat 0g

 

Cholesterol 0g

0%

Sodium 4mg

0%

Total Carbohydrate 86g

29%

Dietary Fiber 46g

184%

Sugars 39g

 

Protein 7g
 

Vitamin A

17%

Vitamin C

222%

Calcium

14%

Iron

28%

* The Percent Daily Values are based on a 2,000 calorie diet.