RAISINS FLAME - Kosher/Gluten Free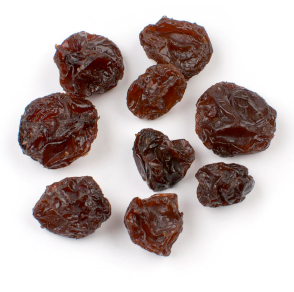 ---
RAISINS FLAME - Kosher/Gluten Free
FLAME-5
Description:

Flame raisins are sun-dried red seedless grapes with a full flavored sweetness that makes them unique. Naturally nutritious, Flame Raisins are fat and cholesterol free and high in iron and potassium. Chefs prefer Flame Raisins for their slightly firm texture and dense flavor. They are slightly less plump than other raisins which make them perfect for dishes requiring additional texture.  
Ingredient Statement:
Raisins, contains less than 2% Vegetable Oil (sunflower and/or palm oil).
Product Description
Flame Raisins are considered the sweetest raisin on the market.  They are sun-dried re seedless grapes that naturally have a unique tasty burst of flavor and slightly firm texture. Even though they are not as plump as the Thompson Raisin, they make up for this size in sweetness. Raisins are fat free, cholesterol free, low in sodium and are high in iron and potassium.
Physical
Color: Soft, dark brown.
Flavor: Typical of raisins.
Size: Round.
Chemical
Moisture: 18%
Sulfites: 2000 PPM Min
Heat Level: N/A
Ingredient Statement:
Raisins, contains less than 2% Vegetable Oil (sunflower and/or palm oil).
Allergen Statement:
Contains no allergens.
Packaging & Storage:
Shelf Life: Min 12 months (under optimum storage conditions).
Packaging: Poly bag in box.
Storage Conditions: Storage environment should be cool and dry (less than 70% RH) and free from undesirable odors.
About Nutritional Information
Chieftain Wild Rice Company gathers nutritional information from highly regarded sources.  Nutritional analysis can vary due to growing conditions, frequency of testing, and other factors.
Nutrition Facts
Serving Size about 1/4 cup (40g)
Amount Per Serving
Calories 120
Calories from Fat 0
 
% Daily Value *
Total Fat 0g
0%
Saturated Fat 0g
0%
Trans Fat 0g
 
Cholesterol 0g
0%
Sodium 0mg
0%
Total Carbohydrate 32g
11%
Dietary Fiber 1g
4%
Sugars 24g
 
Protein 1g
 
Vitamin A
0%
Vitamin C
0%
Calcium
2%
Iron
4%
* The Percent Daily Values are based on a 2,000 calorie diet.
Recommended Preparation Instructions:
There is no preparation needed for dried fruit.