RICE BEANS - Kosher/Gluten Free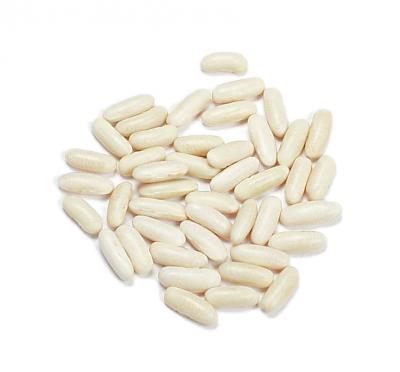 ---
RICE BEANS - Kosher/Gluten Free
RIC-10
Description:

Rice Beans are related to the Kidney Bean and are grown in Idaho. Large and oval this bean is shaped like a large grain of rice. Ivory white in color it is very uniform in size and color and has an interesting appearance. This bean has a mild flavor, firm texture and quick cooking time.
Ingredient Statement:
Rice Beans.
This quick cooking bean makes it ideal for quick preparation, perfect for cold pasta and vegetable salads. Rice Beans are great for mixing into stir-fry or with other colored rices.
Recommended Preparation Instructions:
There is no soaking required. Rinse beans well. Place in pot and cover with water. Bring to a boil, reduce heat, and simmer for 30 minutes.
Once cup dry yields 2 cups cooked.
Product Description
Rice Beans are related to the Kidney Bean. They have a mild flavor and firm texture. Grown in Idaho, these beans are pill-shaped, like a giant grain of rice. Their uniform ivory white color and unique shape make it hard to believe they're really beans.
Physical
Color: Ivory white.
Flavor: Typical of beans.
Size: Approximately 3/8 inch in length. Current average 4.3 grams per 50 beans.
Chemical
Moisture: N/A
Sulfites: N/A
Heat Level: N/A
Ingredient Statement:
Rice Beans.
Allergen Statement
None.
Packaging & Storage
Shelf Life: Min 12 months (under optimum storage conditions).
Packaging: Poly bag in box.
Storage Conditions: Store in a dry, cool place.
About Nutritional Information
Chieftain Wild Rice Company gathers nutritional information from highly regarded sources. Nutritional analysis can vary due to growing conditions, frequency of testing, and other factors.
Nutrition Facts

Serving Size 100g (uncooked)

Amount Per Serving

Calories 336

Calories from Fat 9

 

% Daily Value *

Total Fat g

2%

Saturated Fat 0g

0%

Trans Fat 0g

 
Cholesterol 0g

0%

Sodium 12mg

1%

Total Carbohydrate 62g

21%

Dietary Fiber 25g

100%

Sugars 0g

 
Protein 21g
 

Vitamin A

0%

Vitamin C

0%

Calcium

17%

Iron

44%

* The Percent Daily Values are based on a 2,000 calorie diet.