PUMPKIN SEEDS, ROASTED SALTED - Kosher/Gluten Free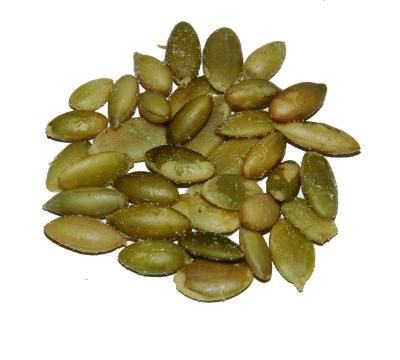 ---
PUMPKIN SEEDS, ROASTED SALTED - Kosher/Gluten Free
PUMPKIN-5
Description:

Pepitas are the raw, hulled seeds of pumpkins. Pumpkin seeds have been eaten in Mexico dating back to ancient Aztec times. Pumpkin Seeds pack therapeutic and nutritional ingredients and are a balanced source of good proteins. Pumpkin Seeds are also lower in fat than most other nuts. Used often in Mexican cooking, Pumpkin Seeds are usually toasted and eaten as a snack. With their white shell removed or hulled, Pumpkin Seeds are medium dark green, about 1/2" long with a delicate nutty flavor. These Pumpkin Seeds are roasted and salted.
Ingredient Statement:
Hulled Pumpkin Seeds, Canola Oil, Salt (may contain traces of Peanuts and Tree Nuts).
For a nutritious snack mix Pumpkin Seeds with dried fruit and almonds for a healthy trail mix. Delicious in breads and muffins or as a topping on cakes. Mix with wild rice and fruit for a tasty rice pilaf.
Recommended Preparation Instructions:
Ready to eat out of the bag.  No preparation is necessary.
Product Description
Pepitas are the raw, hulled seeds of Pumpkins. Pumpkin Seeds are second only to peanuts in protein content. These Pumpkin Seeds are already roasted and salted for your convenience. Enjoy them right out of the bag. Use them sprinkled in salads and stir fry dishes. Add them to veggie burgers, meat loaf, breads and muffins. Mix with dried fruits to make your own trail mix.
Physical
Color: Bright olive green.
Flavor: Typical of pumpkin seeds, nutty.
Size: Approximately 3/8-5/8 inch long.
Chemical
Moisture: N/A
Sulfites: N/A
Heat Level: N/A
Ingredient Statement:
Hulled Pumpkin Seeds, Canola Oil, Salt.
Allergen Statement
May Contain traces of Peanuts and Tree Nuts.
Packaging & Storage
Shelf Life: Min 12 months (under optimum storage conditions).
Packaging: Poly bag in box.
Storage Conditions: Store in a dry, cool place.
About Nutritional Information
Chieftain Wild Rice Company gathers nutritional information from highly regarded sources.  Nutritional analysis can vary due to growing conditions, frequency of testing, and other factors.
Nutrition Facts

Serving Size 100g

Amount Per Serving

Calories 446

Calories from Fat 171

 

% Daily Value *

Total Fat 19g

29%

Saturated Fat 4g

20%

Trans Fat 0g

 

Cholesterol 0g

0%

Sodium 575mg

24%

Total Carbohydrate 54g

18%

Dietary Fiber 0g

0%

Sugars 0g

 

Protein 19g
 

Vitamin A

1%

Vitamin C

0%

Calcium

6%

Iron

17%

* The Percent Daily Values are based on a 2,000 calorie diet.