ALMONDS, BLANCHED SLIVERED - Gluten Free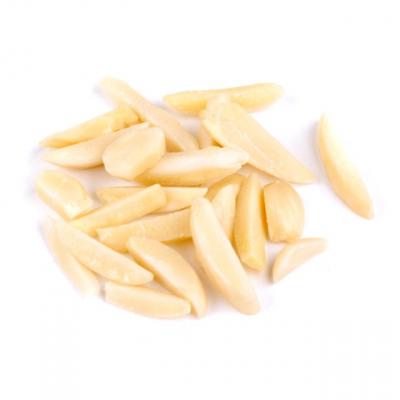 ---
ALMONDS, BLANCHED SLIVERED - Gluten Free
ALMOND-5
Description:

The responsibility to provide a wide spectrum of menus supporting foods that are healthy, quick and convenient falls on food service providers. Almonds play an important role for the health-conscious eater. Besides being low in saturated fat and cholesterol free, Almonds are available in a variety of cuts and forms, they hold well in recipes and lend themselves to an amazing variety of unique menu items. The Almond tree is native to North Africa, West Asia and the Mediterranean but now is grown primarily in California. Almonds are known as nuts but are botanically a fruit, the ancestor of fruits that have large stones for seeds, such as nectarines, peaches, plums and apricots. The Almond has a tough greenish-gray hull that looks like a small, oval peach, when mature, this hull splits open, revealing the Almond shell, which encases the nut. There are two types of Almonds: sweet and bitter. The sweet Almond has a delicate and slightly sweet flavor and is used in desserts and confectionery items. Bitter Almonds are cheaper and easier to grow but have a strong flavor and contain Prussic Acid, which is lethal. When the bitter Almond is heated, the toxicity is destroyed. Almonds may be used in confectionery, made into drinks, tossed in salads, used in stuffing, cereals and trail mixes. A nutritional powerhouse, the Almond contains calcium, fiber, folic acid, magnesium, potassium, Vitamin E and riboflavin. These Almonds are blanched and slivered for your convenience.
Ingredient Statement:
Almonds. (Contains Tree Nuts)
Rich and savory in wild rice stir-fry with cranberries and tart cherries. For sweet temptations and unique entrees try some of these recipes: Almond crostata, Almond date bars, Almond raisin bread, Almond sherbet, Almond rice pudding, date and Almond crusted rack of lamb, grilled pork chops Romesco, crab cakes with white Almond gazpacho, Almond chicken pot pie, Almond crunch breading or Almond chicken salad sandwich.
Recommended Preparation Instructions:
No preparation needed, just add to your recipe as called for.
Product Description
Almonds are the fruit of the Almond Tree grown primarily in California as well as the Mediterranean, Australia and South Africa. There are two types of Almonds, sweet and bitter. The bitter Almonds have a strong flavor and contain traces of Prussic Acid when raw, which is lethal. When the bitter Almond is heated the toxicity is destroyed. The sale of bitter Almonds is illegal in the United States. The other type of Almond is the sweet Almond. These Almonds have a delicate and slightly sweet flavor. Almonds are available blanched or unblanched. The Almond is a nutritional powerhouse containing Calcium, Fiber, Folic Acid, Magnesium, Potassium, Riboflavin and Vitamin E.
Physical
Color: Light tan to cream.
Flavor: Typical of almonds.
Size: Approximately ¾ 1 inch in length, slivered.
Chemical
Moisture: N/A
Sulfites: N/A
Heat Level: N/A
Ingredient Statement:
Almonds.
Allergen Statement
Contains Tree Nuts.
Packaging & Storage
Shelf Life: Min 12 months (under optimum storage conditions).
Packaging: Poly bag in box.
Storage Conditions: Store in a dry, cool place.
About Nutritional Information
Chieftain Wild Rice Company gathers nutritional information from highly regarded sources.  Nutritional analysis can vary due to growing conditions, frequency of testing, and other factors.
Nutrition Facts

Serving Size 28g

Amount Per Serving

Calories 160

Calories from Fat 120

 

% Daily Value *

Total Fat 14g

21%

Saturated Fat 1g

5%

Trans Fat 0g

 

Cholesterol 0g

0%

Sodium 0mg

0%

Total Carbohydrate 6g

2%

Dietary Fiber 3g

14%

Sugars 1g

 

Protein 6g
 

Vitamin A

0%

Vitamin C

0%

Calcium

8%

Iron

6%

* The Percent Daily Values are based on a 2,000 calorie diet.