SPELT - Kosher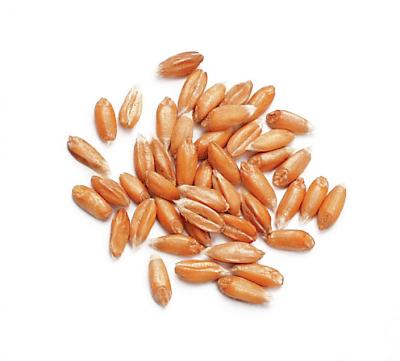 ---
SPELT - Kosher
SPE-10
Description:

Spelt was an important wheat species in parts of Europe from the Bronze Age to medieval times. Spelt is closely related to common wheat and was grown in the ancient near east over 9000 years ago. Currently with the nations attention on better nutrition, Spelt is finding renewed popularity with American consumers. Known as "Dinkle" and "Farrow", Spelt has superior qualities to Wheat. Spelt is sometimes used as an alternative grain for sufferers of wheat intolerance and mild gluten intolerance. Spelt is a rice shaped grain that is shiny and dark tan. When cooked, Spelt has a sweet, nutty flavor with a firm chewy texture. Spelt can cook in less liquid and in less time than wheat and is more easily digested. When baking Spelt, use about 25% less water and remember that mix times may not exceed 4-1/2 minutes at medium speed or the Gluten will break down and your loaf will not rise
Ingredient Statement:
Spelt. (Contains Wheat, Gluten)
Spelt can be marinated with salad dressing, added to soups or stews as a flavor enhancer or substituted for rice in most dishes
Recommended Preparation Instructions:
Soak spelt overnight in water. Rinse and add 1 cup of spelt to 2½ cups of water. Bring to a boil, reduce heat and simmer for 50 minutes. To cook spelt that has not been soaked, simmer for 90 minutes.
One cup dry yields 2 cups cooked.
Product Description
Spelt, also called Farro, has superior qualities to wheat. It cooks in less liquid, in less time, and is more easily digested. Spelt is also often an option for individuals with Wheat allergies. Spelt does not bake like Wheat. When baking, mix times may not exceed 4-1/2 min. At medium speed or Gluten will break down and the loaf will not rise. When baking Spelt instead of Wheat use about 25 less water.
Physical
Color: Light tan to brown.
Flavor: Wheat-like flavor.
Size: Approximately ¼ inch in length, rice shaped grain.
Chemical
Moisture: N/A
Sulfites: N/A
Heat Level: N/A
Ingredient Statement:
Spelt.
Allergen Statement
Contains Wheat, Gluten.
Packaging & Storage
Shelf Life: Min 12 months (under optimum storage conditions).
Packaging: Poly bag in box.
Storage Conditions: Store in a dry, cool place.
About Nutritional Information
Chieftain Wild Rice Company gathers nutritional information from highly regarded sources. Nutritional analysis can vary due to growing conditions, frequency of testing, and other factors.
Nutrition Facts

Serving Size   100g (uncooked)

Amount Per Serving

Calories 283

Calories from Fat 18

 

% Daily Value *

Total Fat 2g

3%

Saturated Fat 0g

0%

Trans Fat 0 g

 

Cholesterol 0g

0%

Sodium 0mg

0%

Total Carbohydrate 70g

23%

Dietary Fiber 17g

68%

Sugars0 g

 

Protein 15g
 

Vitamin A

0%

Vitamin C

0%

Calcium

0%

Iron

6%

* The Percent Daily Values are based on a 2,000 calorie diet.