STARFRUIT- Gluten Free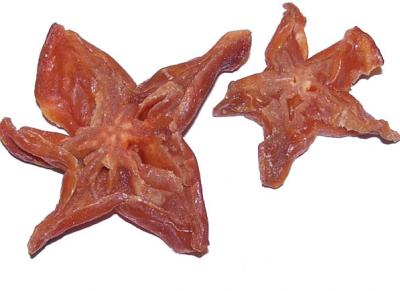 ---
STARFRUIT- Gluten Free
STARFRUIT-1
Description:

This unique tropical fruit acquired its name from the five pointed star-shape when cut across the middle of the fruit. Star Fruit goes by many names; Star Apple, Bilimbi and Carambola to name a few and is gaining popularity in the U.S. for use in the culinary world. Star Fruit has a waxy, glossy, golden yellow colored skin. The flavor is reminiscent of a combination of citrus, apples, and grapes; exotically sweet to refreshing and tangy. The broader set the ribs, the sweeter the fruit. Star fruit are an excellent source of vitamin C and can be used as a garnish or in salads, chutney, curries and tarts. Star Fruit are delicious and nutritious when used in tropical drinks and smoothies.
Ingredient Statement:
Star Fruit, Evaporated Cane Juice.
Star Fruit chicken rice, Star Fruit spinach salad, Star Fruit soup, Star Fruit and ginger smoothie, Star Fruit chutney, Star Fruit salsa and duckling with Star Fruit sauce are just a few of the colorful and tasty dishes you can create using this incredible fruit.
Recommended Preparation Instructions:
There is no preparation needed for dried fruit. If used in baking, you may want to rehydrate. To rehydrate dried fruit, pour boiling water over the fruit and let sit covered for 5 to 10 minutes. Drain well before using.
Product Description
Carambola or Star fruit are crunchy and can be compared in taste to pears, apples, and sometimes grapes. They are a great source of Vitamin C. Star fruit has a tough skin with a tart white inside.
Physical
Color: Golden to light orange color.
Flavor: Sweet, typical of star fruit.
Size: Approx. 1 to 1.5 inches in diameter.
Chemical
Moisture: <14%
Sulfites: Negative
Heat Level: N/A
Ingredient Statement:
Star Fruit, Evaporated Cane Juice.
Allergen Statement
None.
Packaging & Storage
Shelf Life: Min 12 months (under optimum storage conditions).
Packaging: Poly bag in box.
Storage Conditions: Store in a dry, cool place.
About Nutritional Information
Chieftain Wild Rice Company gathers nutritional information from highly regarded sources. Nutritional analysis can vary due to growing conditions, frequency of testing, and other factors.
Nutrition Facts

Serving Size 100g (uncooked)

Amount Per Serving

Calories 31

Calories from Fat 0

 

% Daily Value *

Total Fat 0g

0%

Saturated Fat 0g

0%

Trans Fat 0g

 
Cholesterol 0g

0%

Sodium 2mg

0%

Total Carbohydrate7 g

2%

Dietary Fiber 3g

12%

Sugars 4g

 
Protein 1g
 

Vitamin A

1%

Vitamin C

57%

Calcium

0%

Iron

0%

* The Percent Daily Values are based on a 2,000 calorie diet.