STRAWBERRIES - Kosher/Gluten Free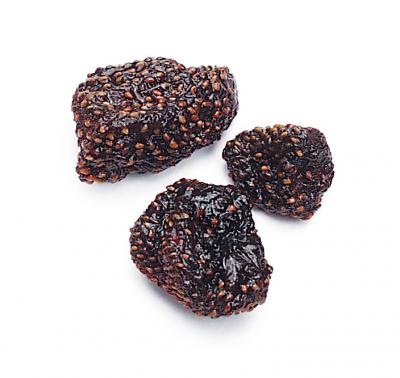 ---
STRAWBERRIES - Kosher/Gluten Free
STRAW-5
Description:

Strawberries are a member of the rose family and are unique in that they are the only fruit with seeds on the outside rather than the inside. Although not botanically classified as a berry, they are considered one of the most important small fruits grown in the Western Hemisphere. Rich in vitamin C and a good source of folic acid, Strawberries are also high in fiber. Cultivated by the Romans as early as 200 BC, strawberries were regarded as an aphrodisiac. The Native American Indians were eating strawberries when the Colonists first arrived. Known worldwide for their exceptional taste, intense sweetness and striking color, Strawberries are used in jams, jellies, syrups, pastries, ice cream, yogurt, beverages, and salads and as a garnish. Dried Strawberries are convenient for use when fresh fruit is not available.
Ingredient Statement:
Strawberries, Sugar, Sunflower Oil.
Dried Strawberries can be used in pastries, granola, muffins, ice cream, yogurt, pancakes, pilaf and scones. Mix with other dried fruits and nuts to create your own trail mix, mixed with hot cereal for a breakfast treat. Toss with rice and other grains and fruit for a delightful summer salad.
Recommended Preparation Instructions:
There is no preparation needed for dried fruit. If used in baking, you may want to rehydrate. To rehydrate dried fruit, pour boiling water over the fruit and let sit covered for 5 to 10 minutes.
Product Description
Strawberries are not botanically classified as a berry. However, this fact in no way deters millions of people from enjoying this delicious summer fruit. Strawberries are the most popular (non) berry in the United States. The origin of the name strawberry is unclear; but it is well known that strawberries have been a symbol of perfection and purity since the Middle Ages.
Physical
Color: Deep red.
Flavor: Typical of strawberries.
Size: Approx. ½ to 1 inch in length.
Chemical
Moisture: <20%
Sulfites: N/A
Heat Level: N/A
Ingredient Statement:
Strawberries,  Sugar,  Sunflower Oil.
Allergen Statement
None.
Packaging & Storage
Shelf Life: Min 12 months (under optimum storage conditions).
Packaging: Poly bag in box.
Storage Conditions: Store in a dry, cool place.
About Nutritional Information
Chieftain Wild Rice Company gathers nutritional information from highly regarded sources. Nutritional analysis can vary due to growing conditions, frequency of testing, and other factors.
Nutrition Facts

Serving Size 100g  (uncooked)

Amount Per Serving

Calories 336

Calories from Fat 9

 

% Daily Value *

Total Fat 1g

2%

Saturated Fat 0g

0%

Trans Fat 0g

 
Cholesterol0 g

0%

Sodium 13mg

1%

Total Carbohydrate 81g

27%

Dietary Fiber 9g

36%

Sugars 68g

 
Protein 2g
 

Vitamin A

1%

Vitamin C

93%

Calcium

1%

Iron

0%

* The Percent Daily Values are based on a 2,000 calorie diet.