VANILLA BEANS, TAHITIAN PAPUA NEW GUINEA - Kosher/Gluten Free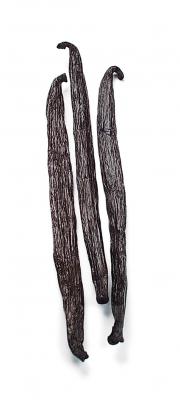 ---
VANILLA BEANS, TAHITIAN PAPUA NEW GUINEA - Kosher/Gluten Free
VANTAH-1
Description:

Vanilla, the sweetly captivating aromatic seed of the climbing orchid. This indispensable flavoring is called for in a vast arena of recipes. Sinfully creamy creme brulee, mouth watering custard, or decadent infused liquors all benefit from the heady flavor of this valuable bean. Vanilla Beans are an esteemed asset, the Vanilla flower is the only one of 350 species of orchids that produce an edible product. Hand pollination is required during the one or two days in which the orchid blooms. A slender piece of bamboo is used to lift away the membrane while a worker smears pollen bearing stamens against the pistils. When the Vanilla Bean is harvested, they have very little flavor and require curing to naturally bring forth the flavor of the bean. The curing process may take up to 2 to 3 months and involves drying, sweating and storage that maintains just the right amount of enzymatic reaction to develop a specific color and flavor!
When the Spanish arrived in Central and South America, the Aztecs were already implementing vanilla as a flavoring for beverages. Samples of the wild Mexican orchids were taken to the islands of French Polynesia. Here they were crossbred with a native orchid. This new species, was grown for several years then transported to Papua New Guinea. Vanilla Beans are grown in both locations now. The Tahitian Vanilla Bean is dark and thick with less flavor than the Bourbon Vanilla Bean.
1# - approximately 125
Ingredient Statement:
Vanilla Beans.
Vanilla is great flavoring for chocolate, coffee, ice cream, cakes, cookies, fruit desserts and most sweet dishes. Surprisingly, a small amount of Vanilla is good with certain rich dishes such as lobster or veal. The beans are added to the food and then removed prior to serving.
Recommended Preparation Instructions:
Cut bean lengthwise, scrape out the dark, pulpy inside and add to recipe. Store the remainder of the bean pod in a glass jar with sugar. This will store the beans and supply vanilla flavored sugar. Use the sugar in any recipe or as a sweetener for hot beverages.
Product Description
PNG vanilla beans, are the seeds of the climbing orchid. The planifolia orchid, also thought of as the bourbon variety, was taken to the islands of French Polynesia. Here they were crossbred with a native orchid and the new species was created. After many years the vines were transported to Papua New Guinea. They are now grown in both places.
Physical
Color: Light to dark brown.
Flavor: Typical of vanilla.
Size: Approximately 15-20 cm in length.
Chemical
Moisture: Maximum 35%
Sulfites: N/A
Heat Level: N/A
Ingredient Statement:
Vanilla Beans.
Allergen Statement
Contains no allergens.
Packaging & Storage
Shelf Life: Min 12 months (under optimum storage conditions).
Packaging: Poly bag in box.
Storage Conditions: Store in a dry, cool place.
About Nutritional Information
Chieftain Wild Rice Company gathers nutritional information from highly regarded sources. Nutritional analysis can vary due to growing conditions, frequency of testing, and other factors.
Nutrition Facts

Serving Size 1 bean (.5g)

Amount Per Serving

Calories 0

Calories from Fat 0

 

% Daily Value *

Total Fat 0

0%

Saturated Fat 0g

0%

Trans Fat 0g

 

Cholesterol 0g

0%

Sodium 0mg

0%

Total Carbohydrate 0g

0%

Dietary Fiber 0g

0%

Sugars 0g

 

Protein 0g
 

Vitamin A

0%

Vitamin C

0%

Calcium

0%

Iron

0%

* The Percent Daily Values are based on a 2,000 calorie diet.